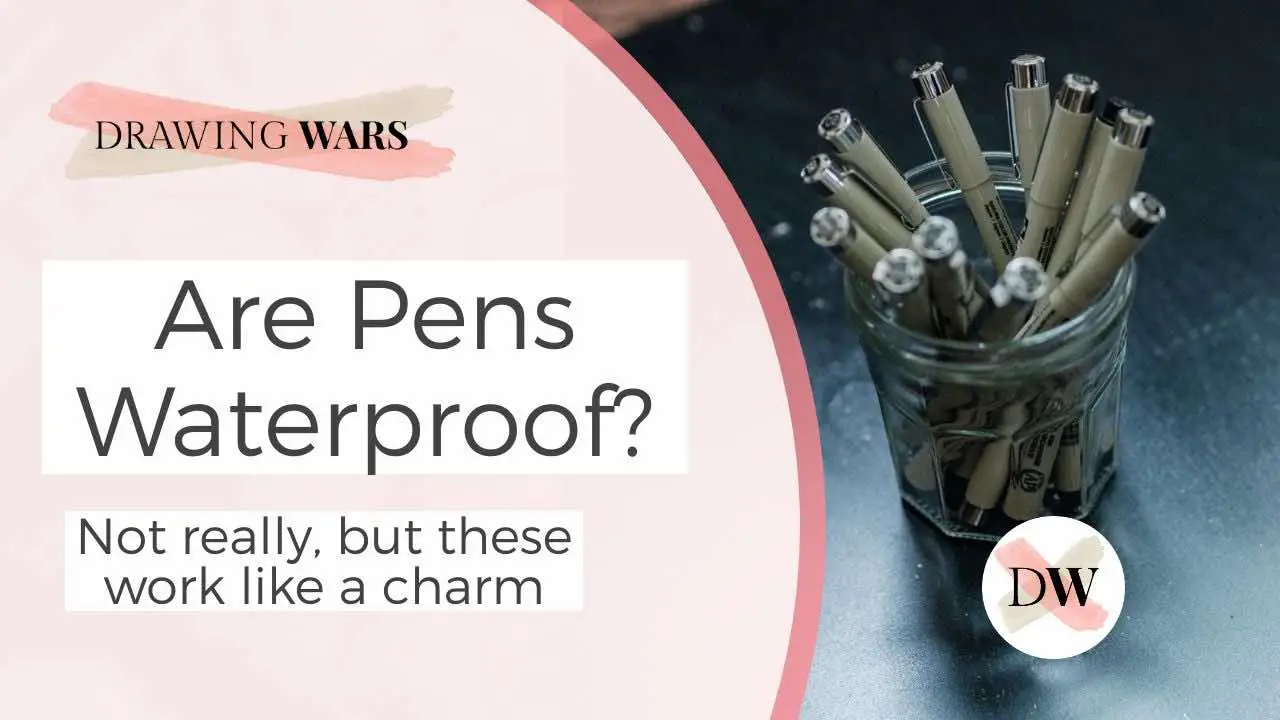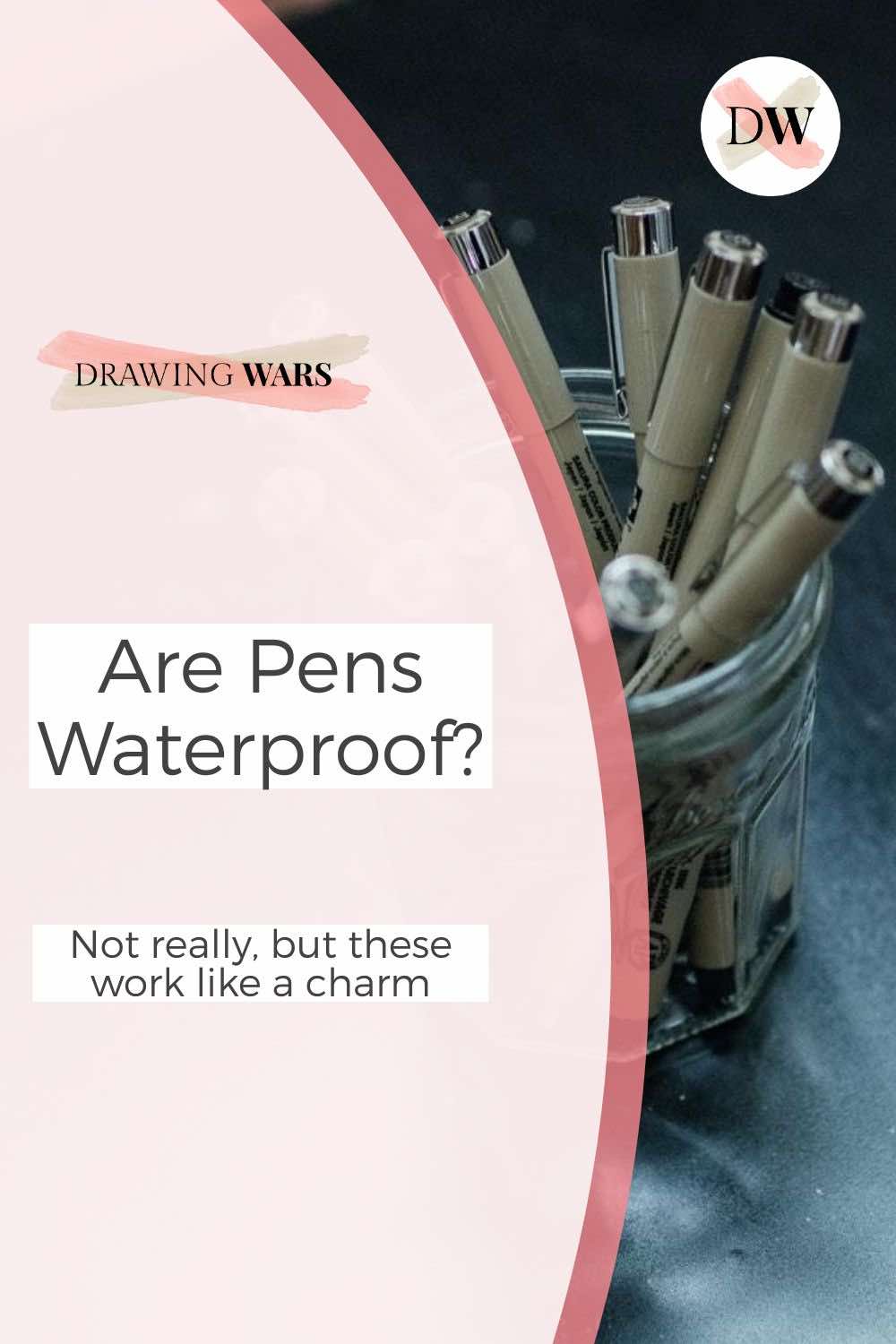 Introduction
Drawing pens are one thing, but what if you want a bit more from them? What if you're looking for the sort of pens that you can use with wet media? When we first began making art with pens, we didn't even think about them being waterproof! Then it occurred to us while we were working on our mixed media artwork - we needed special waterproof pens that won't smudge. If you use normal pens along with water or wet media like ink, you'll be in trouble.
The best waterproof pens for secure and mixed media artworks are Sakura's micron pens, Winsor and Newton's fine liners, Sharpie's fine point art pens, Uni-Ball Signo gel pens, Tombow Fudenosuke brush pens, and Copic Multiliners fine marker pens.
Why do you need waterproof pens?
What kind of artwork would require waterproof pens?
You would need waterproof pens if you want to achieve any of the following in your artwork.
The drawing doesn't get smudged as you're working on it.
The drawing doesn't get ruined if you're adding wet media to your artwork (such as watercolor, gouache, or ink).
Even if you're working on simple and dry artwork, a drawing made with waterproof pens will last much longer.

What are the types of waterproof pens available?
From fine liners to thin marker pens, waterproof pens have plenty of choices.
How does one waterproof pen vary from the other? First things first, not all of them can provide good resistance against water. Secondly, you would need to look at the nibs, waterproof pens are available in various widths. You will also find them in different intensities - from soft to hard nibs.
You can get excellent waterproof pens in the following formats:
Fine liners
Brush pens
Gel pens
Typically, fine liners offer the most versatility due to different nib widths. Brush pens are great for lettering and for transitioning from thin to thick lines and vice versa. With gel pens, you can get a sort of glow and shimmer that doesn't happen with fine liners and brush pens. 
1. Sakura Pigma Micron Pens (Fine Point)
Micron pens are perfect to use with watercolor paints.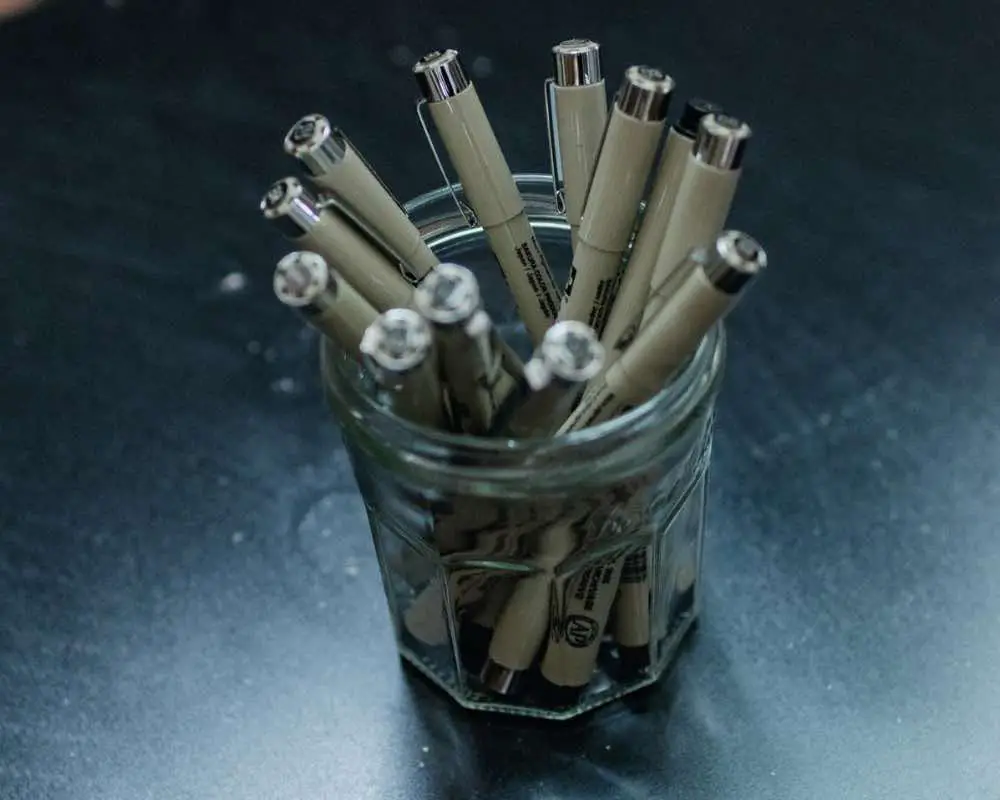 Sakura Pigma Micron pens are the ones you would need if you absolutely love line work. They are available in various widths, ranging from 0.20 mm to 0.50 mm. 
i. Sakura Black Micron Pens
These are the classic black pens from Sakura. You can use as-is or along with other media. They are available individually and also as a pack consisting of nibs of different sizes. 
Starting off with the Sakura Black Micron pens is a great idea.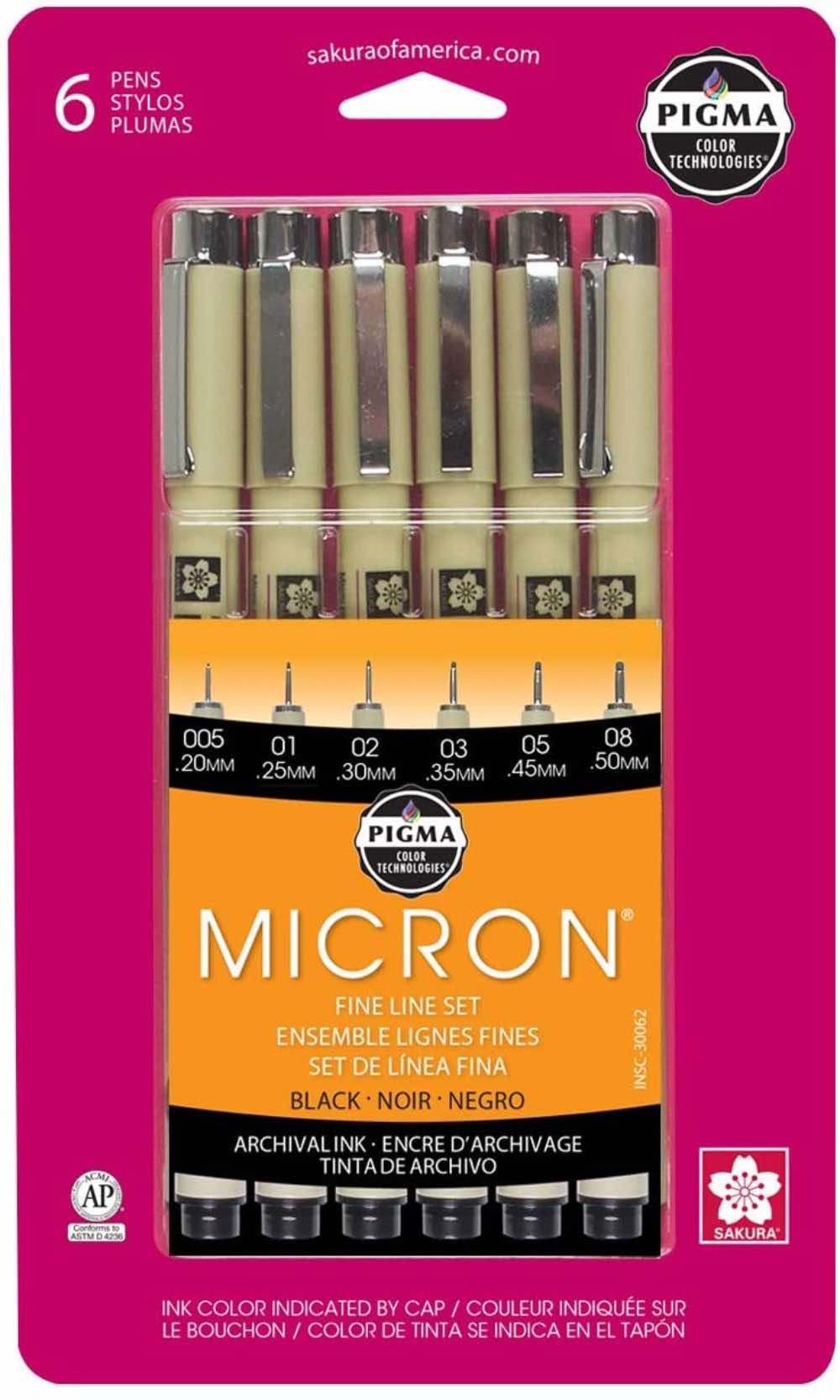 Look no further than these black fine points for your classic waterproof pen drawings.

ii. Sakura Colored Micron Pens 
These are the shades you can find Sakura's colored Micron pens:
| Greens | Blues | Reds | Yellows |
| --- | --- | --- | --- |
| Green (Basic) | Blue (Basic) | Red (Basic) | Yellow (Basic) |
| Fresh Green | Royal Blue | Burgundy |   |
| Hunter Green | Blue/Black | Rose |   |
Apart from the above colors, you can get the Sakura Pigma Micron pens in classic brown, sepia, orange and purple too.
If you want the colored range of Sakura Pigma, we recommend getting this pack .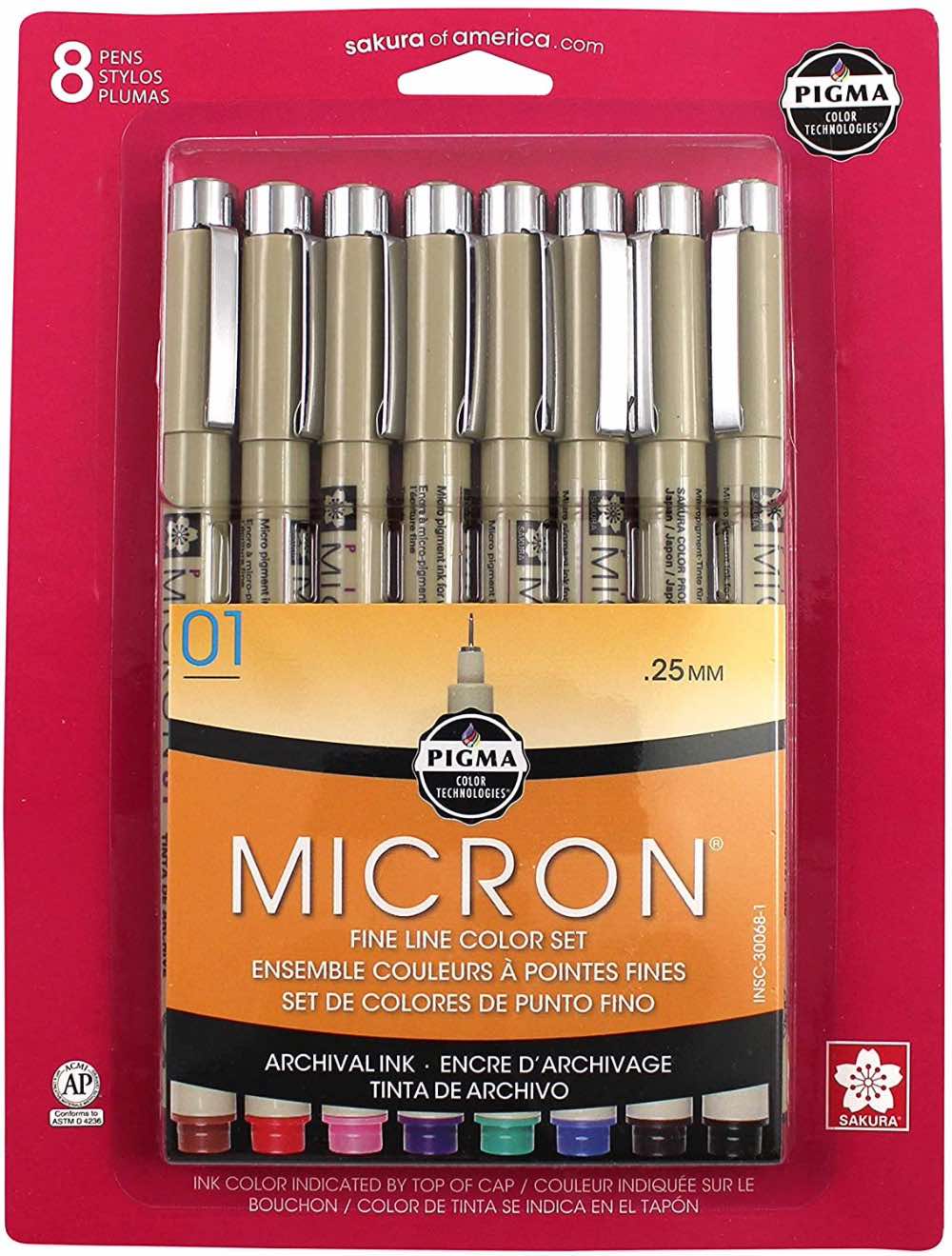 The set contains 0.25 mm micron pens in shades of blue, green, black, red, sepia, purple, rose and brown.

Quick tips for using the Sakura Pigma Micron Pens
If you're using the pens on a harder surface, it's best to increase the point size. The bigger the nib, the easier it is to use on hard drawing support like wood.
Don't put too much pressure on the pen - it will either break the nib or it could damage the paper too as the nib goes deep inside.
Avoid using Micron pens on any other surface than paper.
The nib of one Micron pen can be used on another. So if one of your pens has a clogged nib but still has plenty of ink, you can replace it with the nib of another pen that has run out of ink. 
Don't use an eraser on a micron drawing too much because it will lighten the color and intensity of the pen marks.
PRO-TIP
rotate your micron pen usage
Since these pens are not refillable, it's best to rotate the pens. Don't use one pen all the time, otherwise,  you'll run out of ink sooner than expected. It's best to keep pens of various widths for different parts of your pen artwork.
2. Fineliners by Winsor & Newton (Fine Point)
These high-quality fine liners come in a variety of stunning shades.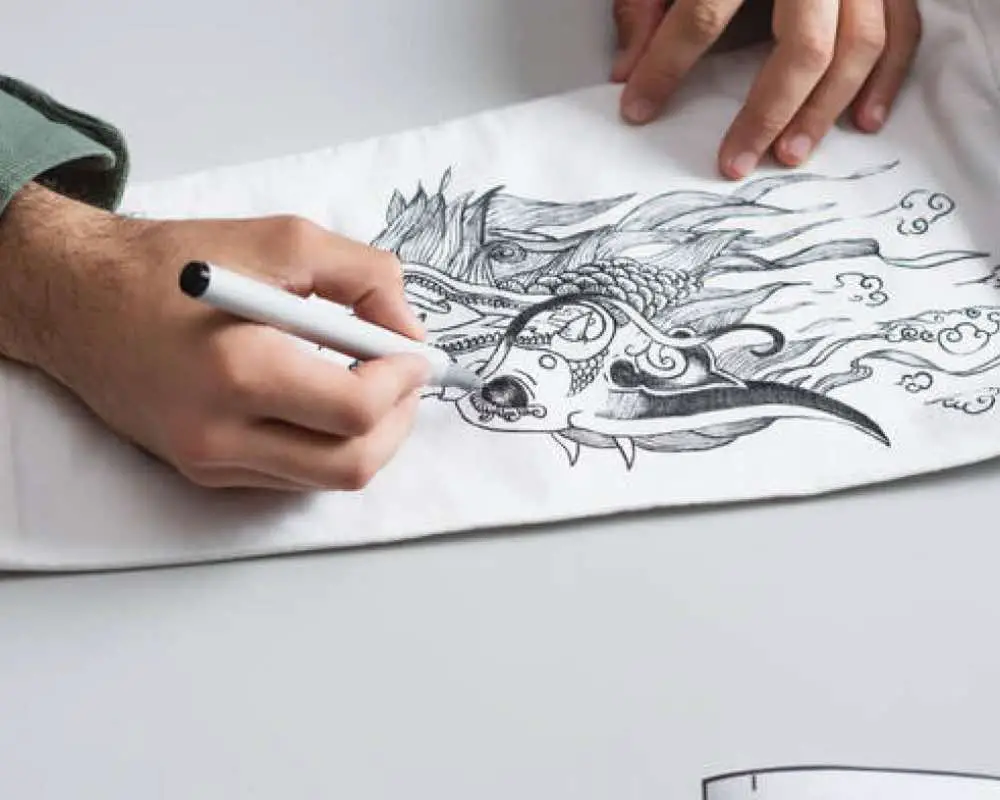 The Winsor & Newton fine liners are famous for their intensely waterproof system. And more so, they provide artists with a comfortable grip, which guarantees easy and swift movement while drawing. It also means that you could try out multiple  drawing styles with these versatile waterproof drawing pens.
Shades available in Winsor & Newton's fine liners
Apart from the classic black W&N fine liners, you can also get them in cool grey, indigo and sepia.
Here is a set of cool grey Winsor & Newton fineliner pens you definitely shouldn't miss!
This set of 5 fine liners is perfect for creating stunning grayscale artworks.

Quick tips for using the Winsor & Newton fine liner pens
Be flexible with the way you hold your Winsor & Newton pens. Don't exert pressure but change the pen movement to get different curves.
Have at most two to three different nib widths, as it's very easy to create intricate and detailed work with these pens.
PRO-TIP
Combine black and cool grey pens
How about creating a grayscale artwork? Buy the fine-liners in both black and shades of grey. Then combine the various shades to create a piece that looks more dynamic than just using black pens directly.
So, the Winsor & Newton fine liners are best if you only need a limited color range instead of vast and vibrant ones.
3. Sharpie Art Pens (Fine Point)
Sharpie's permanent pens are people's favorite for a reason.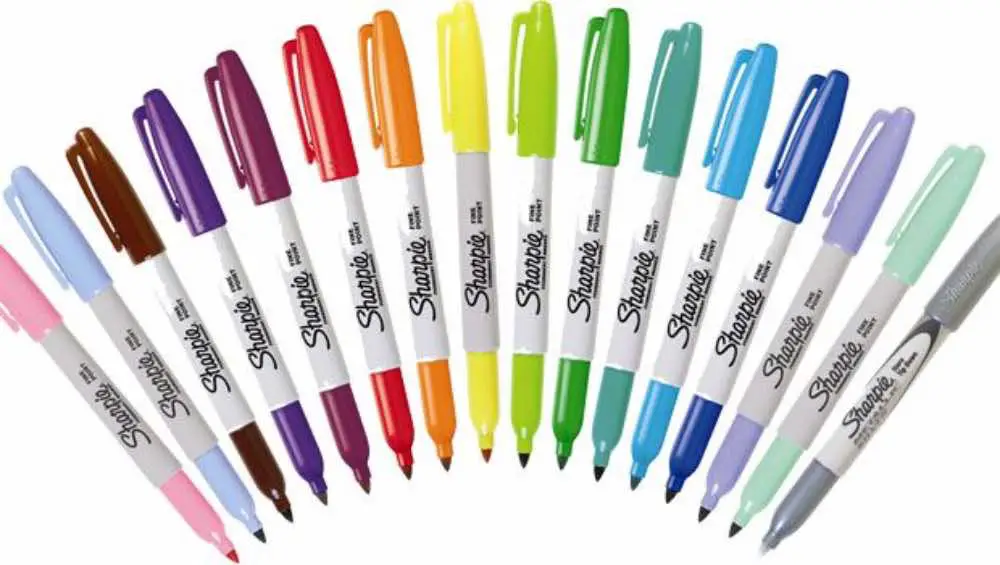 Sharpie's markers are known for being fantastically permanent. As is the case with Sakura, Sharpie's products are known for being available in a wide array of vibrant colors. Their main line of markers is thicker, but the Sharpie Art Pens (Fine Point) is what you need if you're looking for easier detail.
Here is a pack that we recommend for all types of artwork.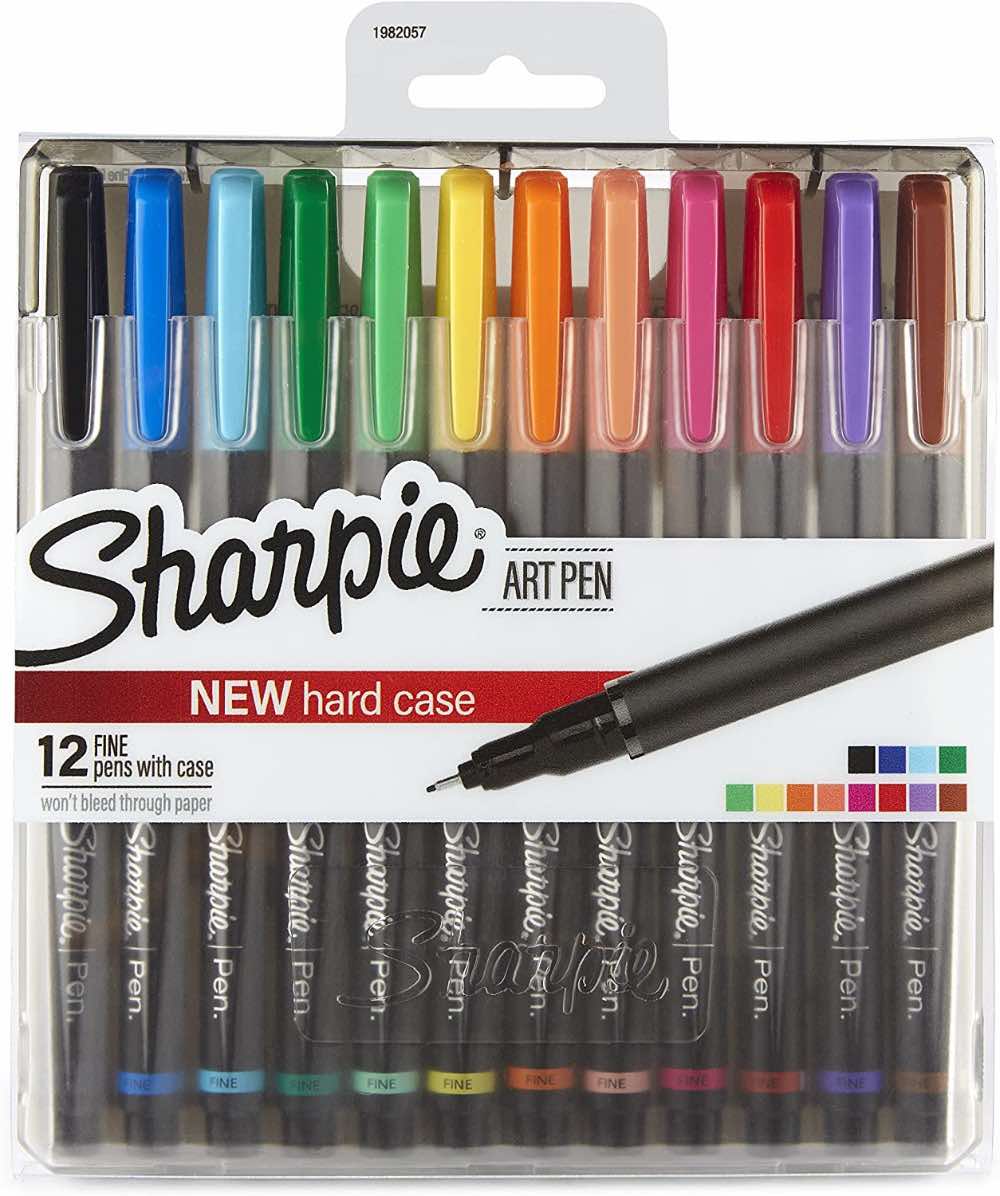 This pack of 12 Sharpie's fine point pens has all the vibrant colors you need for coloring, drawing, and simple decorative artwork.

Quick tips for using the Sharpie Fine Point Art Pens
The fine point of these pens makes them ideal for both writing and drawing. If you're someone who loves to mix words with images, then these pens provide great control and coverage.
4. Uni-Ball Signo (Gel Pens)
Do you love high pigmentation and vibrant colors?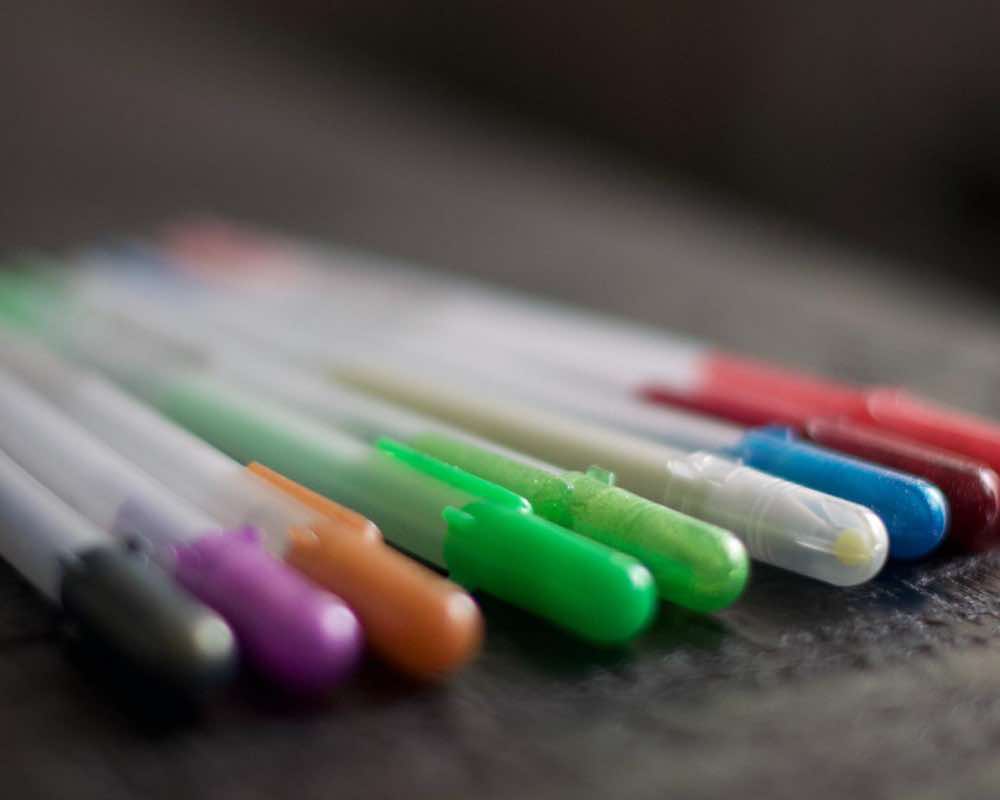 The Uni-Ball Signo gel pens are your ultimate choice if you always wanted to use gel pens in pure vibrant colors. You can get these amazing pens in so many shades. If you want a lot of colors, we recommend you get this beautiful pack of 19 Uni-Ball Signo gel pens .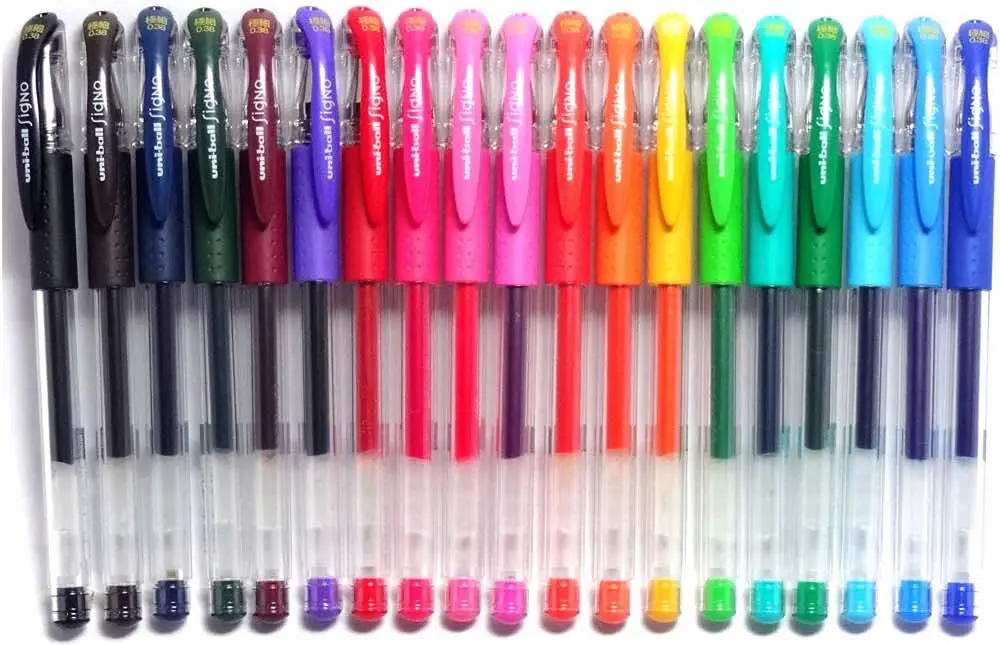 This pack of 19 colors is perfect for creating vibrant illustrations and artworks that are bubbly and a delight to look at!

Quick tips for using the Uni-Ball Signo Gel Pens
The Uni-Ball Signo gel pens are a bit varied when it comes to drying. Some colors dry faster than the rest, so it's best to leave the drawing for 24 hours.
Some of the shades don't dry immediately, so avoid touching the drawing or using paints immediately over it.
If you have heavy work to do and you prefer to use only one fine width, then this pack of 10 black Uni-Ball Signo gel pens is all you need.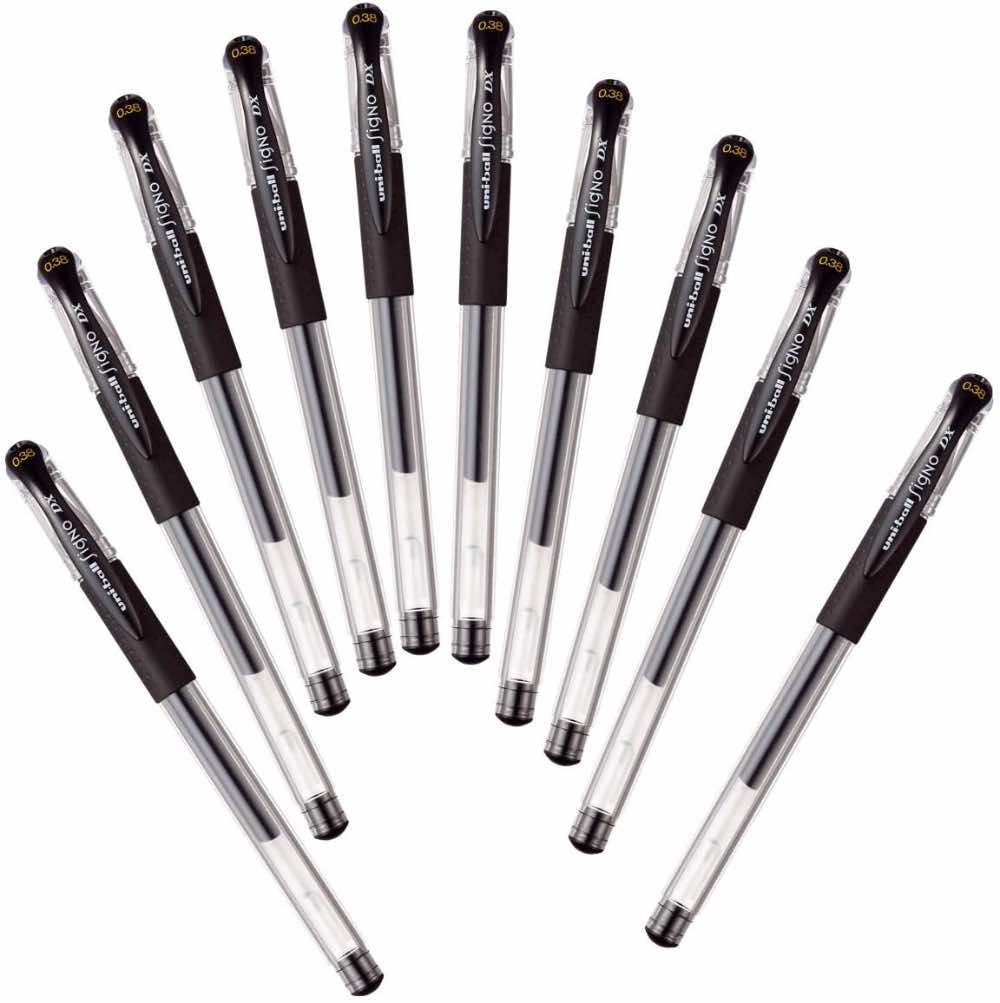 This pack of 0.38 mm black pens is ideal for the artist who loves creating intricate drawings.

5. Tombow Fine Liners and Tombow Fudenosuke Brush Pens
The Tombow Fudenosuke brush pens are versatile for line thickness!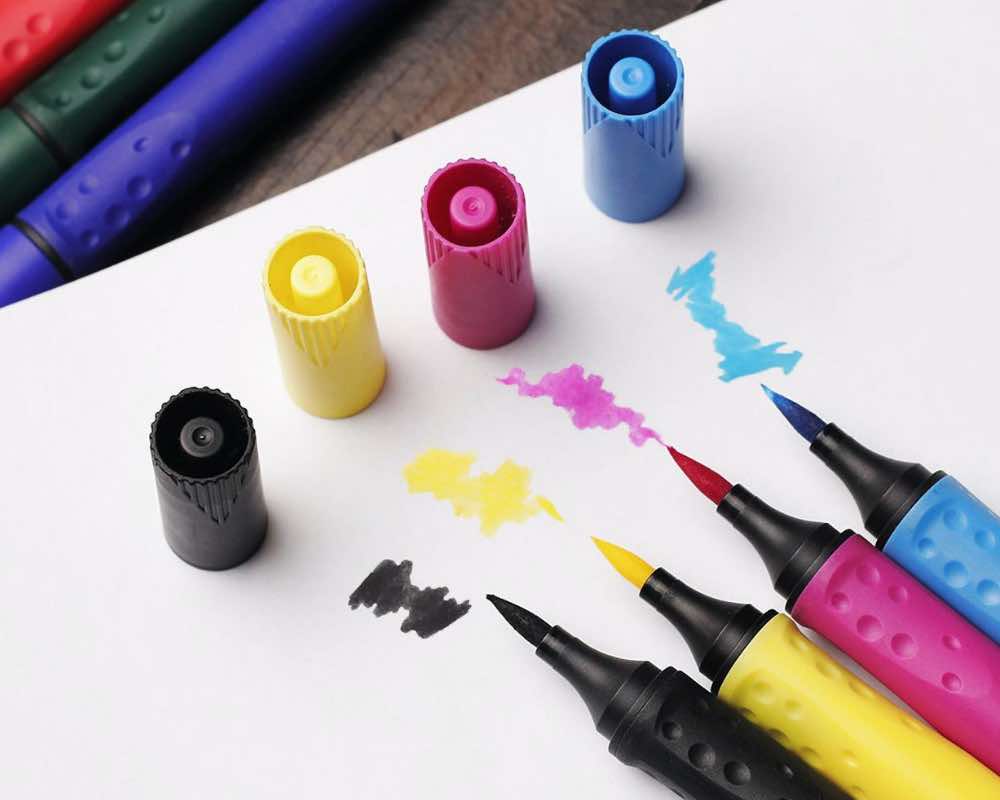 The Tombow Fudenosuke brush pens are great if you want to switch between thin to thick lines and vice versa in your artwork. They are available in hard and soft nib forms.
You can get the Tombow pack of 3 drawing pens from here.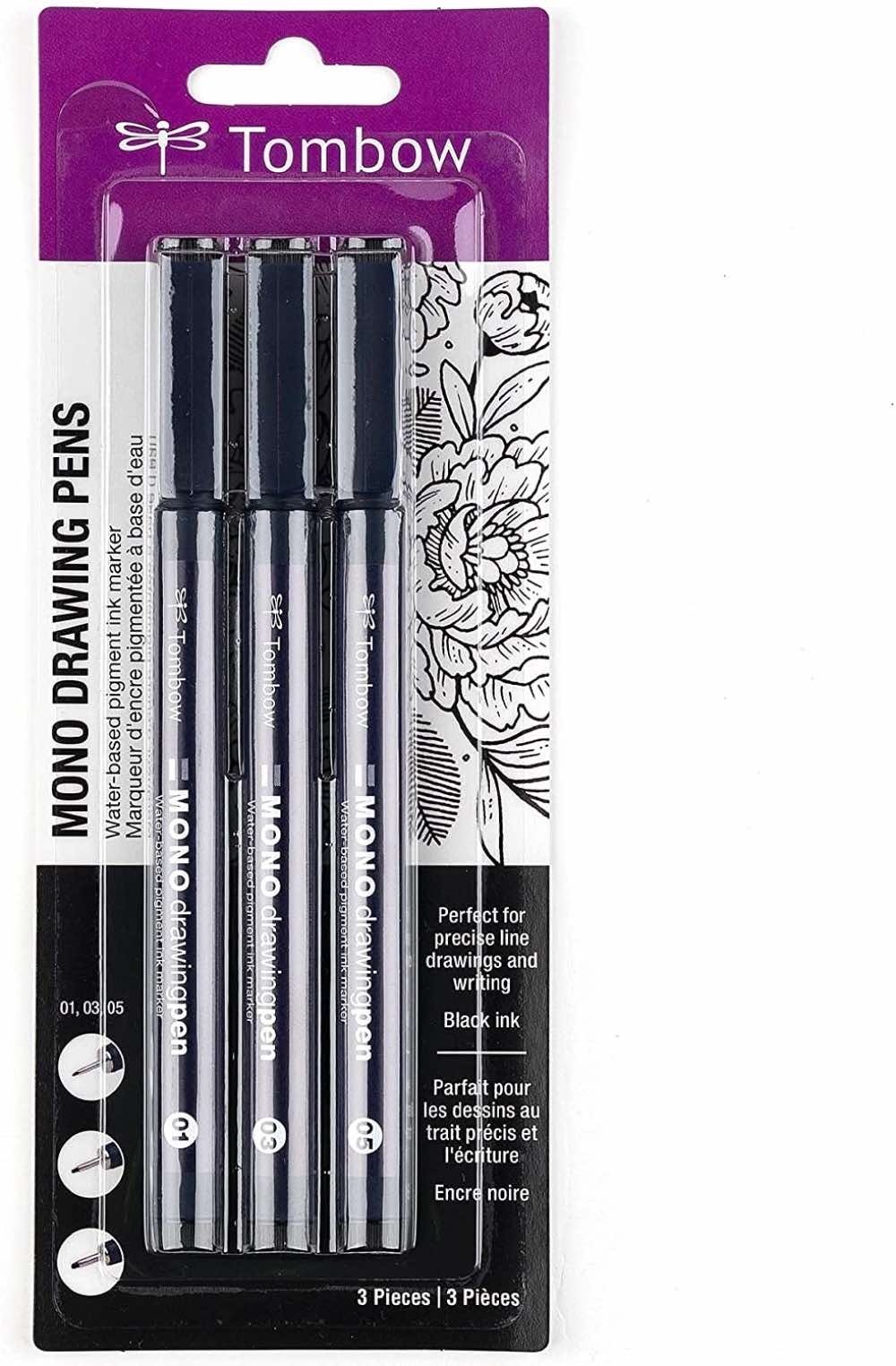 These 3 drawing pens are for you if you like creating basic pen drawings in black.

On the other hand, if you're more comfortable with brush pens, look no further than this pack of Tombow Fudenosuke pens .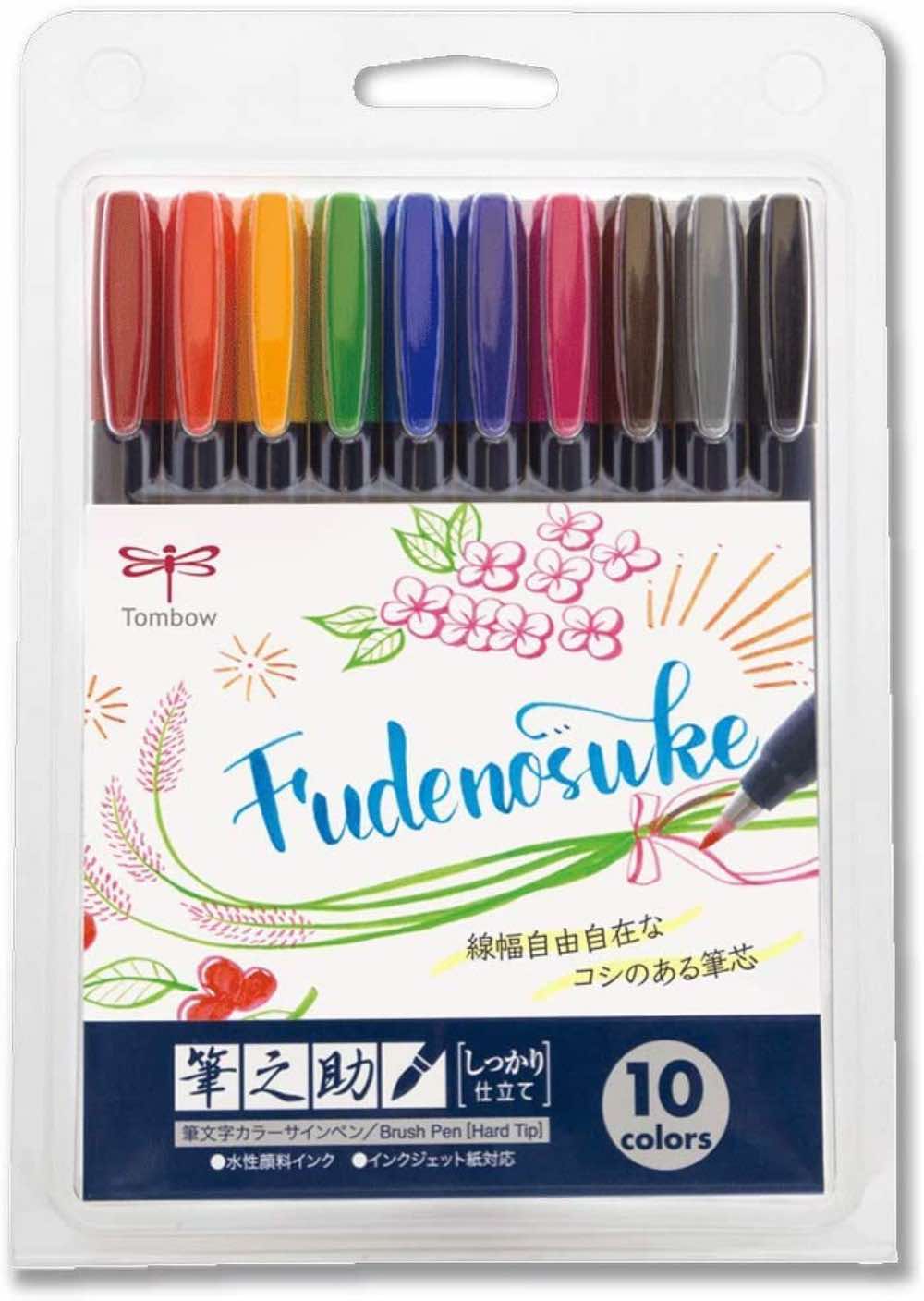 This colored set also consists of gray, brown, and black brush pens so it's great for both basic and colored work!

Note that if you're getting the double-sided version of the Tombow Fudenosuke pens, the gray-colored one would take almost 24 hours to completely dry. If you're working on a fast grayscale pen art project, the Tombow Fudenosuke brush pen may not be the most ideal pick.
WARNING!
Prone to smudging
The Tombow Fudenosuke waterproof pens are not good at preventing smudging! So these pens are the best only if you limit them to dry work.
6. Copic Multiliner Pens (Fine Point/Marker Pens )
Copic multi-liners is one of the best pens to use with watercolor paints!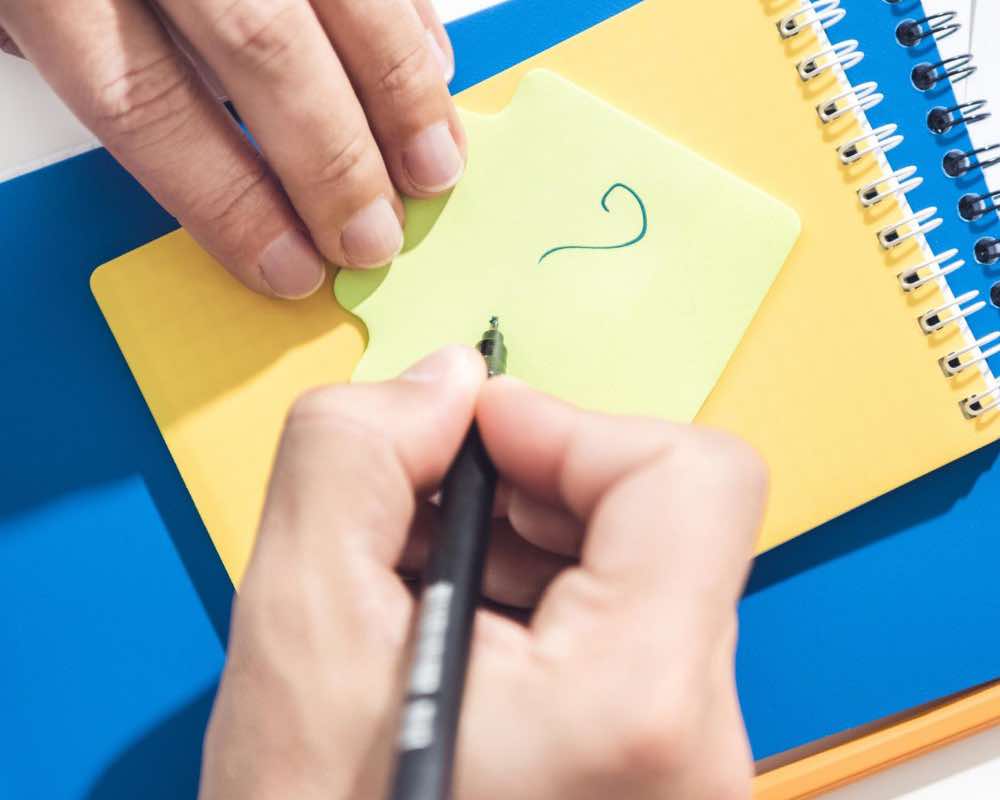 If you're looking for colors, the Copic multi-liners don't have a lot of variety. There are just around 10 colors but their visibility is good and the hues are pretty attractive too. All of them are available in nibs of different widths, ranging from 0.3 mm to 1 mm. The sepia and black shades are also available in the form of brush pens.
Although most of them are disposable pens, you can get refillable versions too. For the disposable version, we suggest you get this pack of 10 Copic multiliner pens that offer the same versatility and flexibility as that of markers.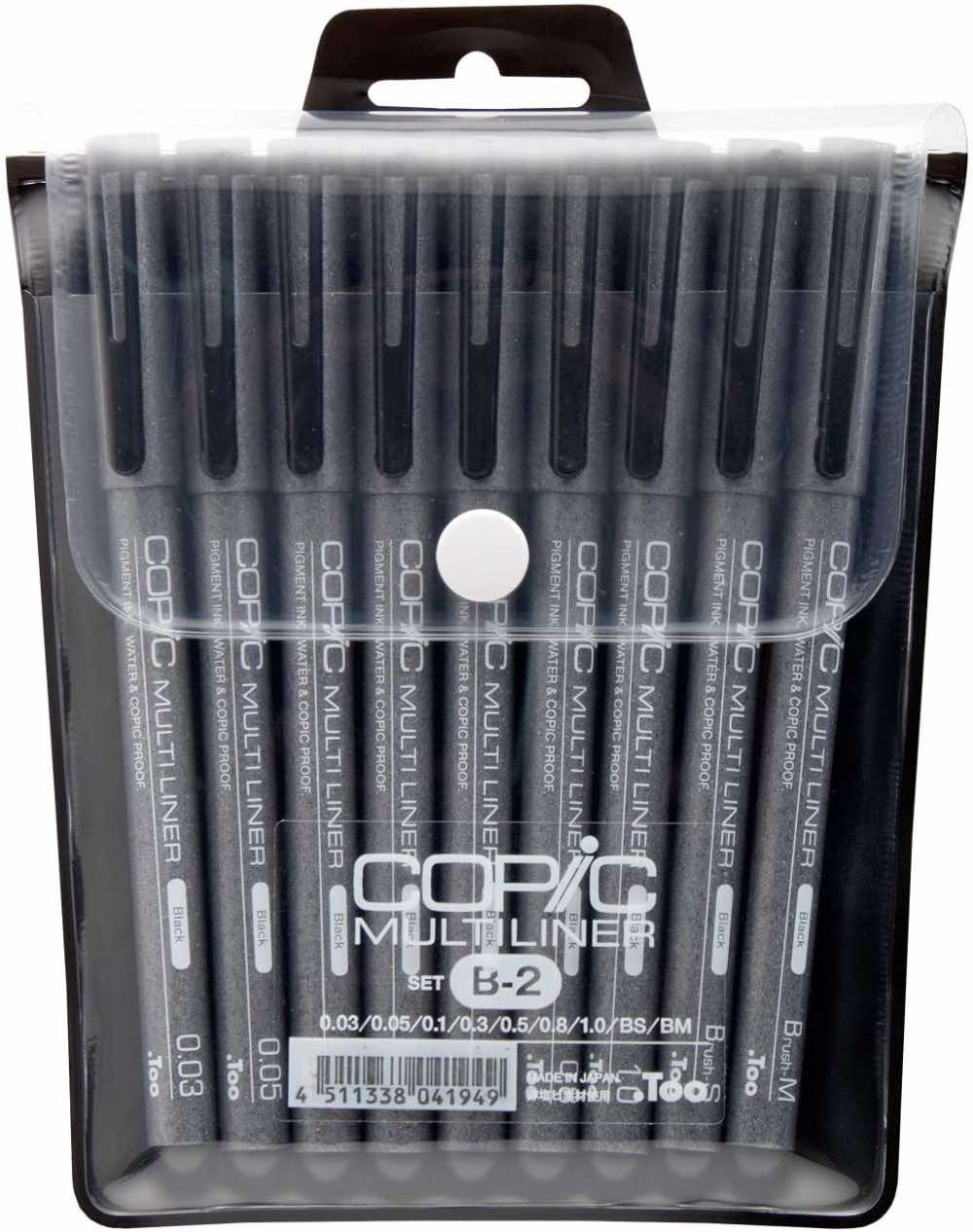 This pack of 9 Copic multiliner pens consists of varying nib widths - from the thinnest to the boldest points.

Quick tips for using the Copic Multiliner Pens
Keep three to four pens of different widths to get the most versatile result from your artwork. Rather than applying pressure for thickness, keep switching between the pens for a much better result.
How to test the quality of a waterproof pen?
Before using a waterproof pen on your artwork, it's better to test it.
There's more to a waterproof pen than the label which states its water-resistant capabilities. Not all of them could be good, so if you're ever in a situation where you have waterproof pens that you haven't ever used before, here's how to test them:
Take a small piece of paper.
Scribble various shapes and textures on the paper. 

Run your fingers across the marks after a few seconds to see if there is any smudging.
Put a few drops of water on the pen marks. Does the ink begin to spread all over?
Instead of just pouring water droplets, use a brush to apply paint on top of the pen scribbles.
If the ink is bleeding and the paint is beginning to darken or spread, it means the pens don't have a fast drying time. On the other hand, it could also suggest that the pens aren't waterproof at all!
Doing the above short test will help you understand how quickly the ink dries. And of course, if there is smudging and no waterproof resistance, then the particular brand just isn't worth it.
What is the most suitable paper for waterproof pens?
Lastly, don't compromise on the quality of the paper.
Although the above seven waterproof pens work great, don't forget to use high-quality paper too. You may find the line and texture of your pens differing from one paper to another. So instead of using smooth or fine-grain drawing paper, always use watercolor paper instead.
Here is a watercolor diary/sketchbook we highly recommend for on-the-go observational sketches and full-fledged artworks.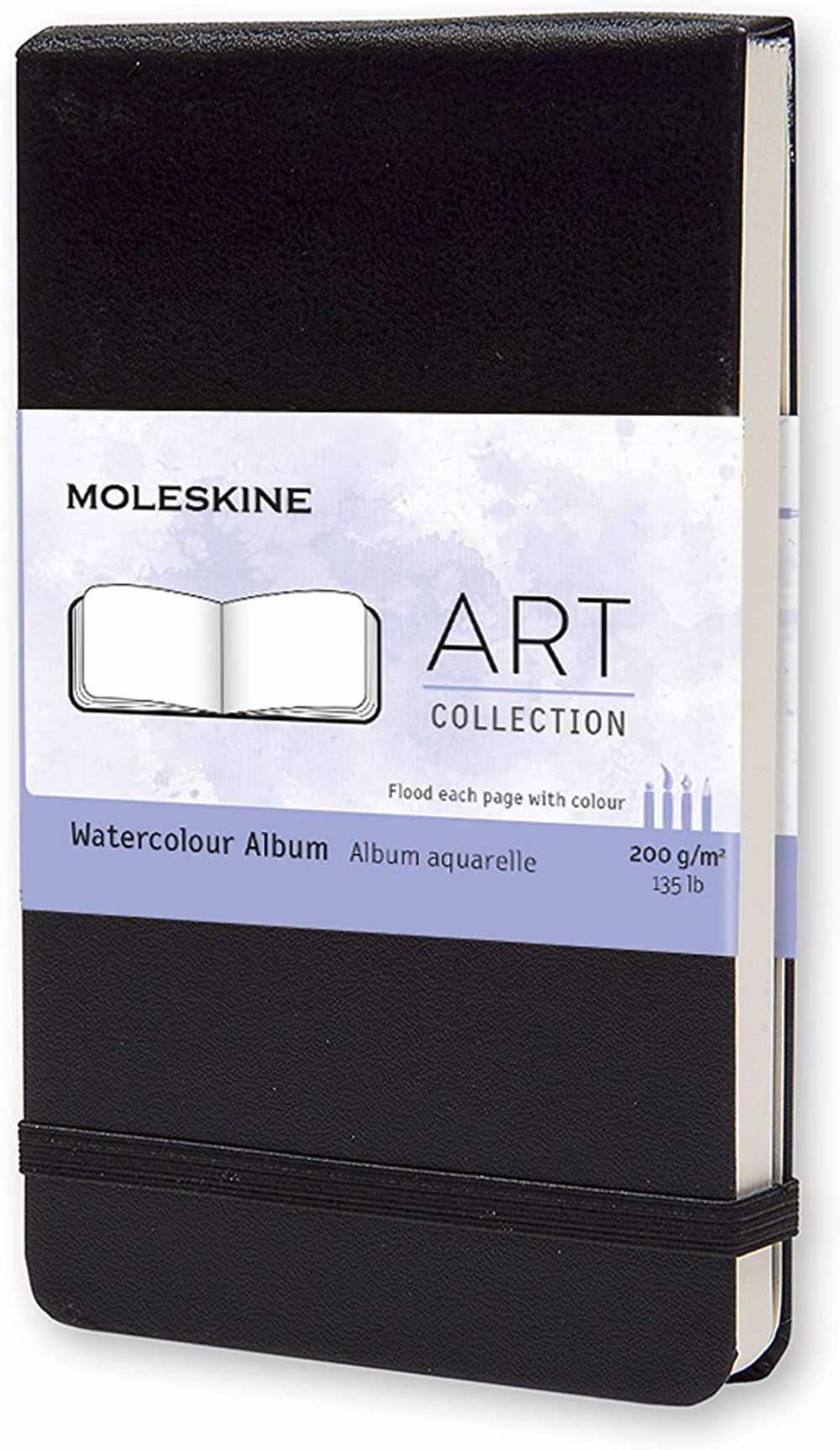 This landscape format watercolor diary is perfect to carry out your pen drawing experiments. You could also

And if you're looking for a multi-purpose sketchpad, then get this medium-sized perforated cold-pressed one .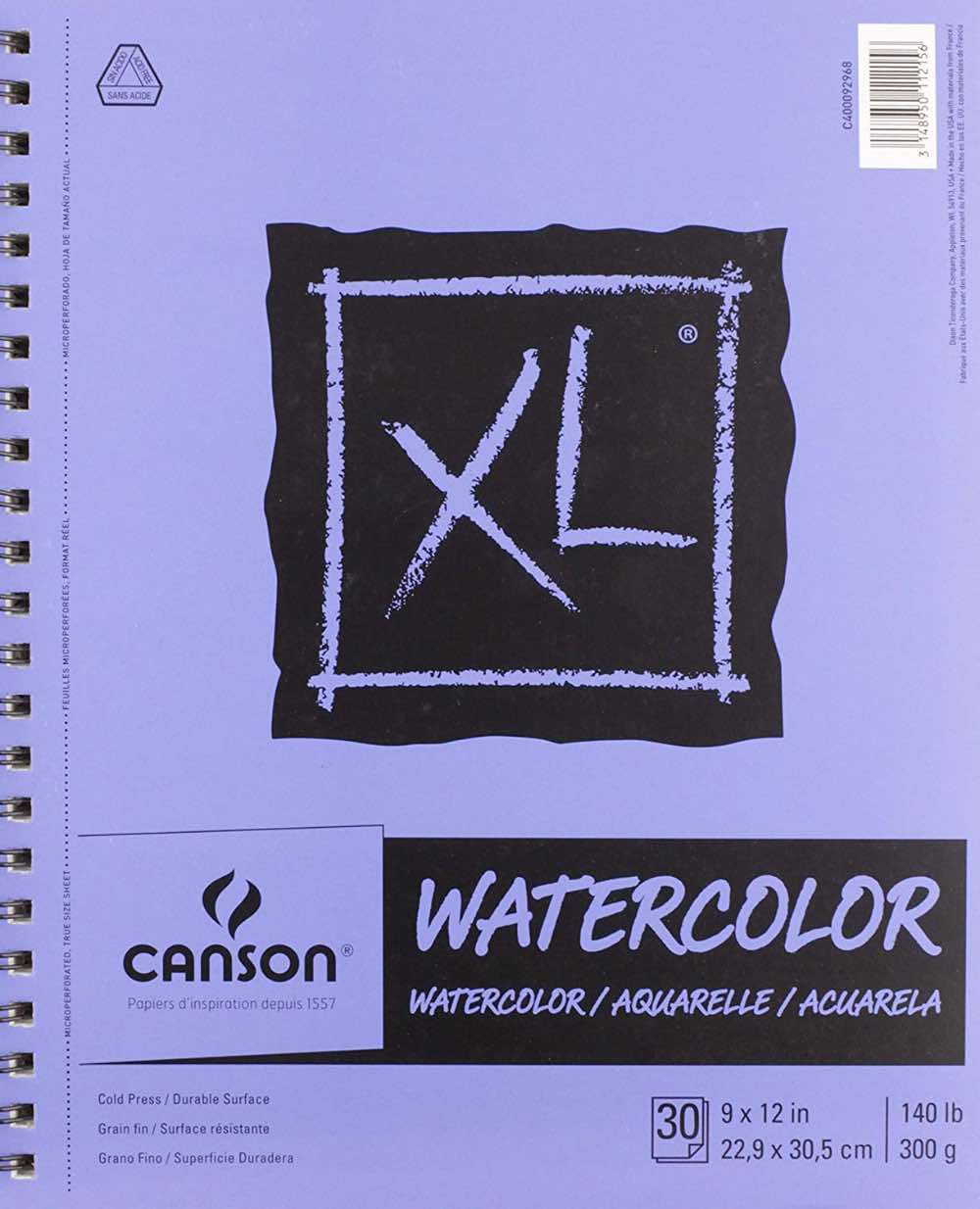 This perforated cold-pressed sketchpad (30 sheets) will give you the freedom to take out your drawings/paintings any time for creating a portfolio or framing!

Conclusion
Thus, while normal pens aren't waterproof, you can always purchase waterproof pens separately. Of all the waterproof pens, Sakura Pigma Micron Pens are your best bet because of the range of colors and black Copic multi liners are sufficient fine point pens too. However, Sakura's color and intensity can lighten if you erase too much. For brush pens, the Tombow Fudenosuke works great. For grayscale artworks, the Winsor & Newton fine liners are awesome, and if you're looking for waterproof gel pens, look no further than the Uni-Ball Signo.
Always remember to test the waterproof pen if it's a brand that you haven't ever used before. In fact, always test a pen before using it because it could turn out to be faulty, regardless of whether it's a trustworthy brand or not.
If you want to learn more about pens, don't miss this post on how long pen ink lasts !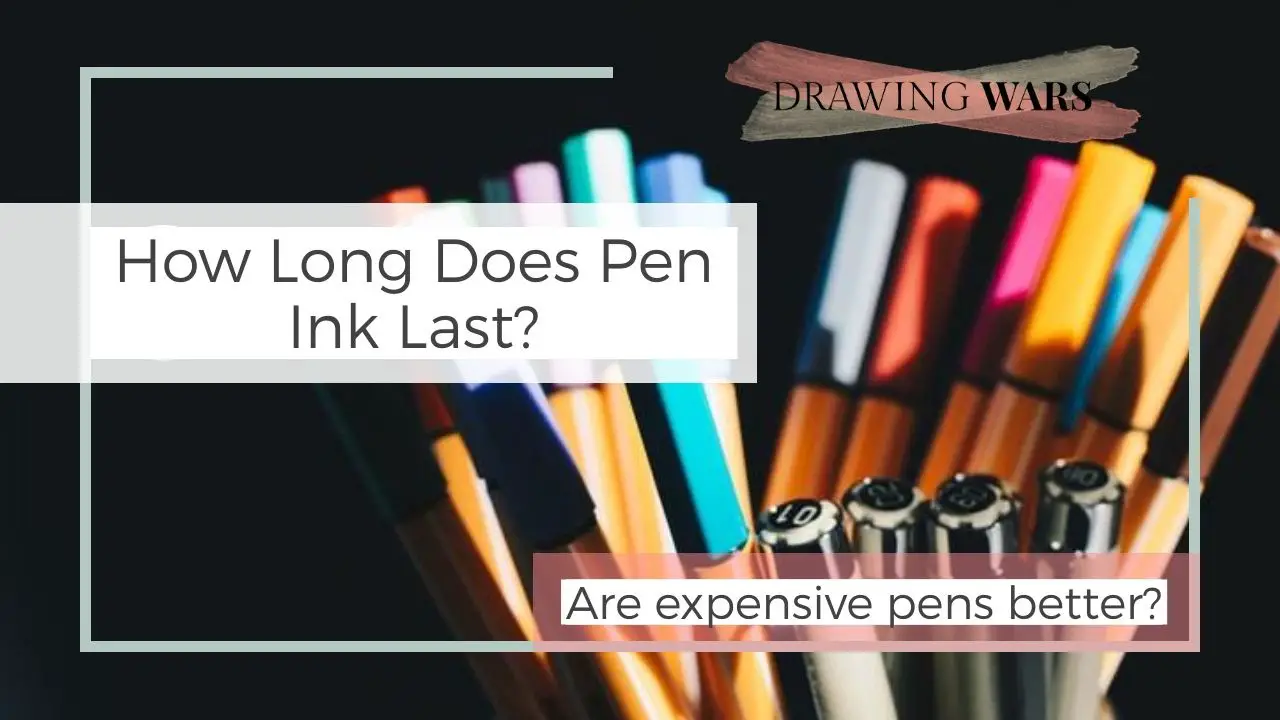 Do you love working with pens but have no idea how long the ink lasts? Here's all you need to know about how ink longevity and pen shelf life works!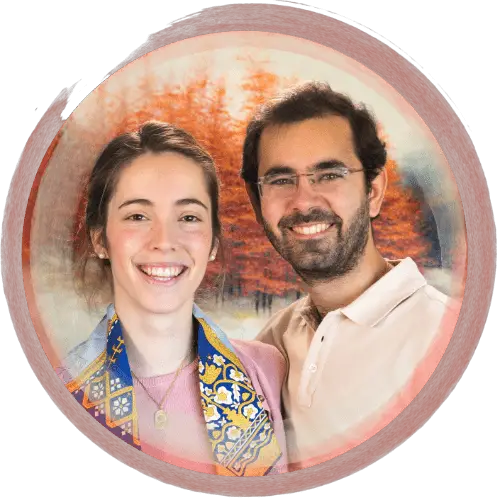 By Jimena & Iñigo
The Navarro-Rubios
My husband and I are learning how to draw and paint. We wanted to share this learning process with the world and have fun! That's why we created this blog. We'll have drawing contests every week and you'll decide who won that week! Follow along and learn with us!