Introduction
Drawing as a hobby is a wonderful and rejuvenating experience. And it's pretty simple too, as all you need is some paper and pencils - and you're good to go! However, there are so many art supplies for drawing out there and you may be tempted to try them all. It was the same case with us when we started drawing as a hobby - pens, pencils, charcoal, ink, it's like the choices were endless. We wanted to try them all, so we decided to buy art supplies that are both inexpensive and great.
The minimum cost for drawing as a hobby would include the materials of paper (sketchbook/sketchpad), a set of graphite pencils, relevant sharpeners, and erasers. Some sketching and drawing packs come in as little as $10. However, the cost of individual supplies may be slightly, or twice as higher.
A Quick Cost Break Down for Drawing Supplies
Here are the basic materials you need.
When it comes to drawing supplies, there are different media and brands to choose from. Before diving into the details of various drawing media, we would like to give a brief breakdown of our basic supplies for the artist.
Sketchbook (Basic) with 100 sheets: $8.99
A set of 14 graphite pencils: $6.99
2-in-1 sharpener and eraser: $8.74
Total cost: $24.72 (USD)
We have covered the above in detail below. Although the above supplies are basic, we have also listed some advanced drawing material that we use from time to time. You can choose from any of them - it's totally up to you!
1. Sketching Paper, Sketchpad, or Sketchbook ($8.99)
Choose from the most versatile drawing paper or sketchbook out there!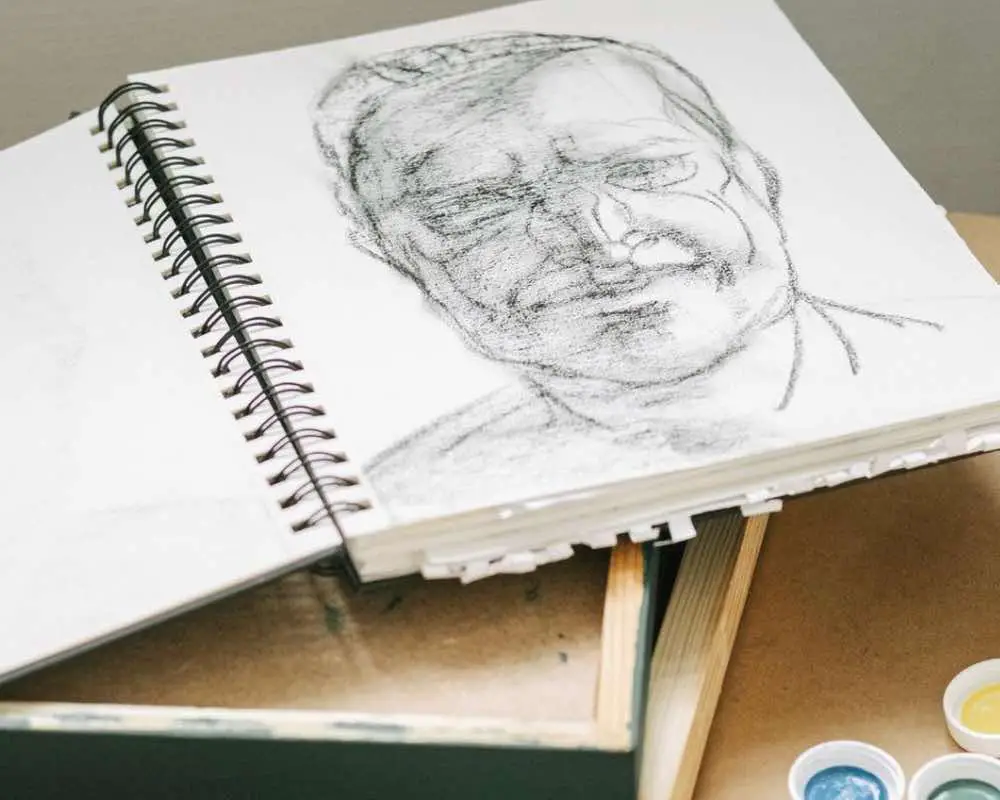 What kind of paper is the best for drawing? Texture-wise, you could choose from many types of sheets. Some are smooth, while others have more tooth and cater very well to chalky drawing media like soft/hard pastels and charcoal. 
i. Bachmore Sketchbook: 100 sheets of 9x12 inches ($8.99)
This sketchpad will work very well with the basics: charcoal, chalk, and pencils. The 9x12 inch size is medium, so you could always cut it down to smaller sizes.
With mixed media sheets, you have the liberty to try out as many media as you like. The texture of these sheets is such that it could be used with any sort of drawing media, including oil pastels and you can also add a bit of watercolor here and there.
If you are thinking of using more than just graphite pencils for your artwork, then it's best to get this mixed media sketchbook . 
2. Set of Graphite/Drawing Pencils ($6.99)
A basic collection of 6-12 graphite pencils is more than enough!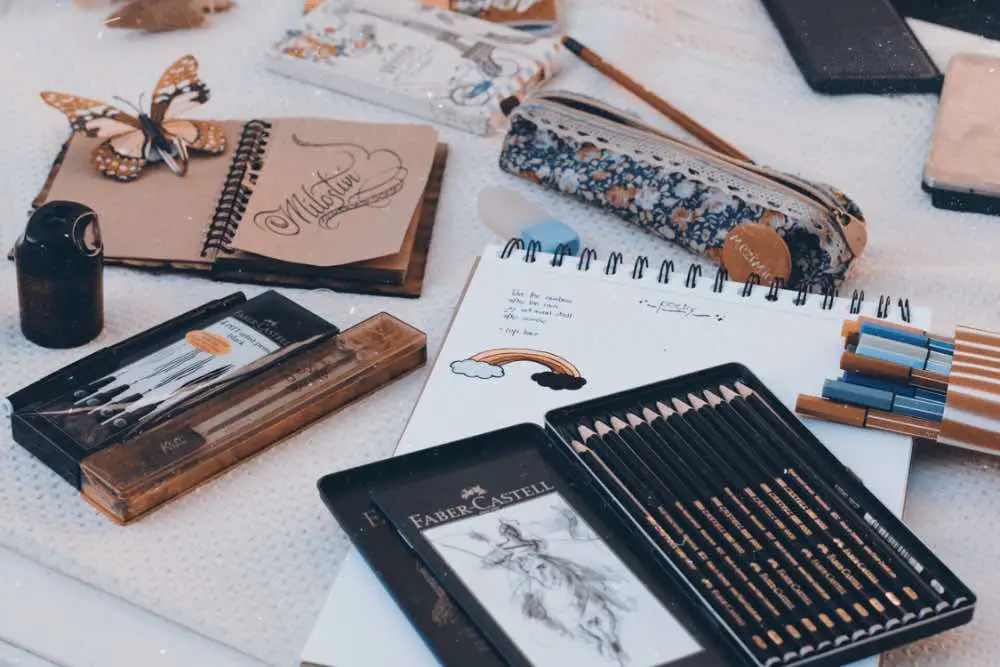 When it comes to graphite pencils, an artist must have three types of grades in their drawing kit:
Hard (H): The H pencils are used to create hard and thin lines. The bigger the number, the harder and thinner the line will get. For instance, 
Bold (B): The B graphite pencils are used to create bold lines with a soft texture. These are the ones you would need for shading.
Fine (F): The F grade pencil portrays fine marks and lines, somewhere between the texture of hard and bold, but toward the finer side.
So do you need to get pencils in all numbers for all the above grades? Not really. At most, you would need the following:
Basic H pencils: H, 2H, 3H
Basic B pencils: B, 2B, 3B
F pencil (optional)
While the F pencil is convenient, it's not necessary.
If you're looking for a variety of pencils in each grade, then you should get a tin. However, you can always buy the pencils separately too.
For beginners, we would recommend that you get this one :
3. Basic Colored Pencils ($7.99 or $7.50)
Apart from the basics, you can choose from other types of colored pencils too.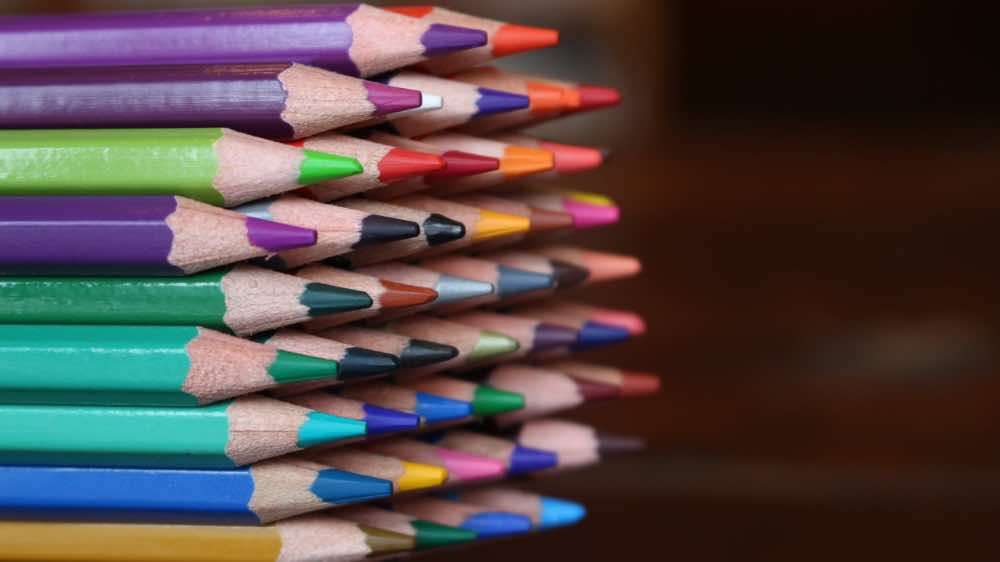 How many shades should you go for? Ideally, even 12 colors are enough but if you want to be a bit more vast, we would suggest you get the 24 pack. 
We highly recommend getting this 27 colored pencils set from Faber Castell . Although it states that it's for kids, it's perfect for hobby artists and you will love the skin tones if you really like making portraits and figures.
The cost of the colored pencils will depend on the type you wish to purchase. Here is a cost breakdown of colored pencils that I have.
Water-soluble colored pencils: You can get a basic set of watercolor pencils for a very cheap price. Just having the student-grade watercolor-colored pencil set is more than enough.
Ink-soluble colored pencils: These are exactly like watercolor pencils, but the main difference is that these pencils contain ink instead of watercolor.
Polychromos colored pencils: These colored pencils are high quality and you may want to consider buying them if you're deciding to go into drawing as a hobby for the long run.
The cost for all the above would vary from brand to brand.
Alternatively, if you love to give watercolor effects, we suggest you get watercolor pencils instead, these are for just $7.50.
3. Sharpeners and Erasers ($8.74)
Various erasers could be used to remove marks and create textures too!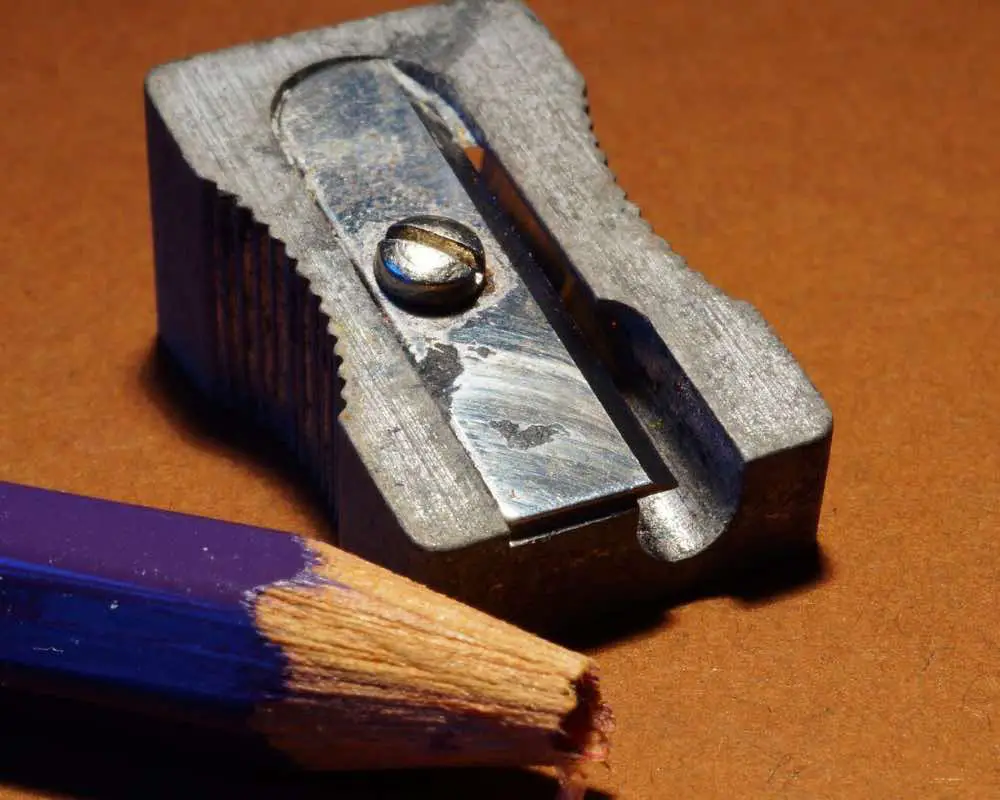 All in all, you should have three different erasers in your drawing kit:
Basic eraser: This is the eraser that's used to remove writing. You can get the most basic ones from a stationery store.
Kneaded eraser: You would need this eraser more if you work with pastels and charcoal. The best advantage of using a kneaded eraser is that you can distort it into any shape and make it narrower to remove marks from the tiniest of places.
We recommend getting this 2-in-1 eraser and sharpener from Derwent Academy.
PRO-TIP
create textures
Did you know that you could use an eraser as a drawing tool? You don't have to limit it to removing marks only.
When you've reached an advanced level of drawing, you can even get an electric eraser to create highlights in your artwork. However, for beginners, it's not unnecessary to get an electric one. If you create very intricate and detailed work, 
Note that you may need a different sharpener for wider pencils or other kinds of drawing supplies. For instance, for charcoal, you would need sandpaper to make sure the point is finer.
PRO-TIP
Sharpeners of different sizes
In addition to the basic sharpener, you can also get a knife and sandpaper. But since that is a bit advanced, we recommend jumping to this technique later!
Apart from pencils, you can choose from other art supplies.
So what other drawing supplies can you choose from? Here is a list of the potential art supplies for drawing along with their cost, feel free to include any of them in your kit.
i. Oil pastels ($6.37)
Although oil pastels are a drawing medium, they create the texture and appeal of oil paints. But unlike oil paints, you don't have to use solvents like turpentine or thinners necessarily, unless you want to achieve certain effects.
 Try out this awesome set of 12 Sakura Cray-Pas junior oil pastels !
ii. Soft pastels ($9.85)
Soft pastels are one of the most versatile drawing media because using them, you can create both drawings and paintings. This set of 48 half square soft pastels has a variety of shades you'll love.
iii. Charcoal
When it comes to charcoal, you will have a few options to consider depending on the form of the medium. Charcoal is great for loose and expressive strokes, it gives more freedom compared to graphite pencils. However, it's more prone to smudging and therefore, requires that the charcoal drawing be fixed for sure.
Willow charcoal ($5.99)
Willow charcoal sticks come in different sizes. They can be messy to handle if you don't have anything wrapped around them to grip. The narrower sticks are ideal for small-scale works, whereas the wider ones are perfect for large-scale drawings.
We recommend getting this Marie's Willow Charcoal set .
Charcoal pencils ($4.27)
Using charcoal pencils is less messy than willow charcoals since you can hold them quite easily. They're also more likely to be available in various tinted shades like earth red, shadow green, and much more.
For beginners and hobbyists, this set of white and black charcoal pencils is the best.
iv. Conté crayons ($7.34)
Conte crayons are more soft pastels and charcoal texture-wise, but the difference is that these are relatively harder. Hence, you can create strong strokes and lines.
This set consists of the four basic shades of sepia, white, black and sanguine.
v. Drawing pens ($12.14)
For pens, there is nothing better than fine liners as they offer the most control and versatility because of different nib sizes.
We suggest getting the Micron black pens set and the same brand for colored ones too. They are waterproof so not only can you use them with water-soluble pencils but you can expect durability too.
6. Watercolor Pans ($15.10) - Optional
Having watercolor paints makes your drawing kit more diverse!
Although watercolor is a painting medium, it can be used in conjunction with drawing media. You can create wonderful artworks by combining charcoal, ink, graphite, pastels, etc with watercolor paints.
For drawing, having watercolor paints in the pan form is the best way to quickly fill in all on-the-move drawings in your sketchbook. You don't need a lot, just a tiny pocket box of the basic watercolor paints, like this one from Winsor & Newton.
PRO-TIP
choose watercolor pencils instead
You don't need to buy these pans if you have already had watercolor pencils. That is because these pencils could be used both dry and wet. So save yourself some money by investing in a basic set of watercolor pencils!
Review 
| PRODUCT | COST ON AMAZON (in USD) |
| --- | --- |
| Bachmore Sketchbook (9 x 12 inches) - 100 sheets | $8.99  |
| Mixed Media Sketchpad - 60 sheets | $10.99 |
| MARKART Professional Sketching Pencils (Set of 14) | $6.99 |
| Faber-Castell World Colors - Diverse Skin Tone Pack (Pack of 27) | $7.99 |
| Faber-Castell Grip Watercolor EcoPencils (Pack of 12) | $7.50 |
| Derwent Academy Pencil Sharpener & Eraser (2-in-1) | $8.74 |
| Sakura Cray-Pas Junior Artist Oil Pastels (Set of 12) | $6.37 |
| Ha Shi Soft Pastels, half square (Set of 48) | $9.85 |
| Marie's Willow Charcoal (3-8 mm) | $5.99 |
| Generals Charcoal Pencil Drawing Set (4 black, 1 White) | $4.27 |
| Matchbox Conté Crayons (Pack of 4 classic colors) | $7.34 |
| Sakura Pigma Micron Pens Fine Point (Black) - Set of 6 | $12.14 |
| Winsor & Newton Sketcher's Pocket Watercolor Box | $15.10 |
If you're having trouble deciding, you could get this Amazon Basics Sketch and Drawing Art Kit for just $8.07 !
Conclusion
All in all, drawing as a hobby doesn't have to be expensive. It all comes down to the kind of drawing you're thinking of making. At the most basic level, even a normal HB pencil and a sheet of copy paper are sufficient to create a drawing. However, if you're considering going beyond that, a set of multiple graphite pencils, sharpeners and erasers, and a sketchbook are enough. You can always add more drawing media and accessories to your ever-growing art kit.
If you want to learn more about drawing, check out this post about drawing on the skin .