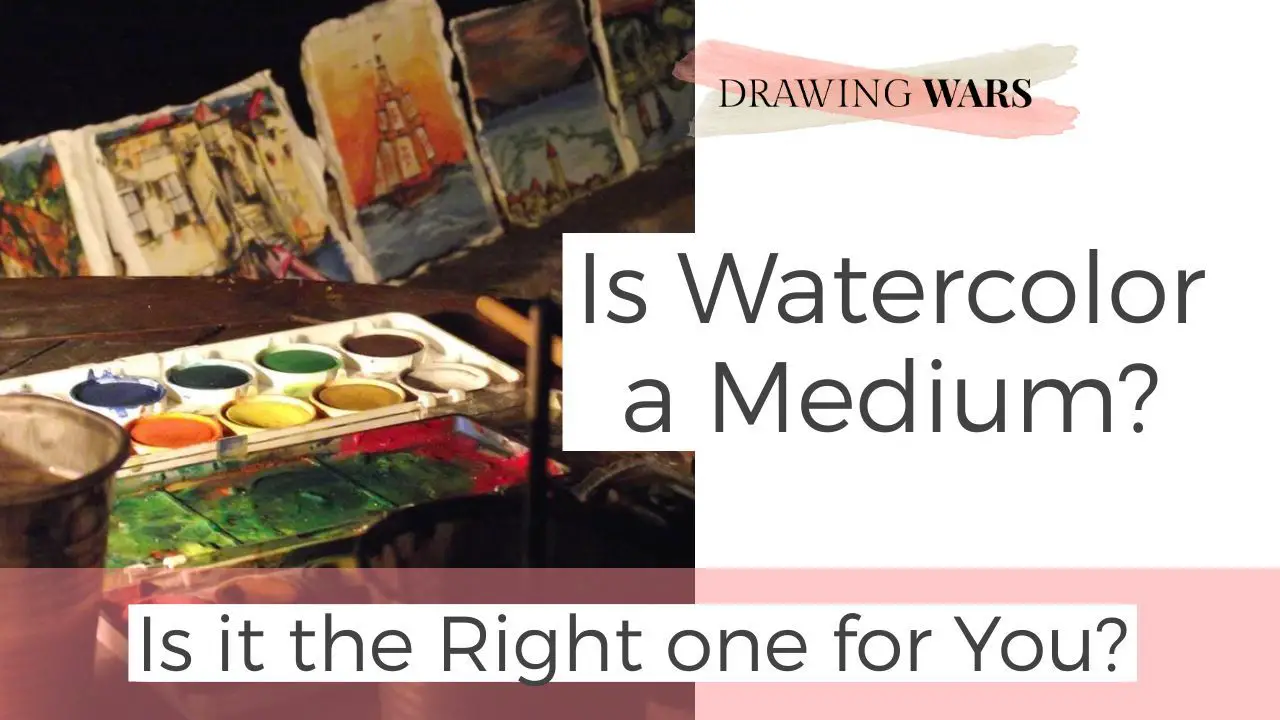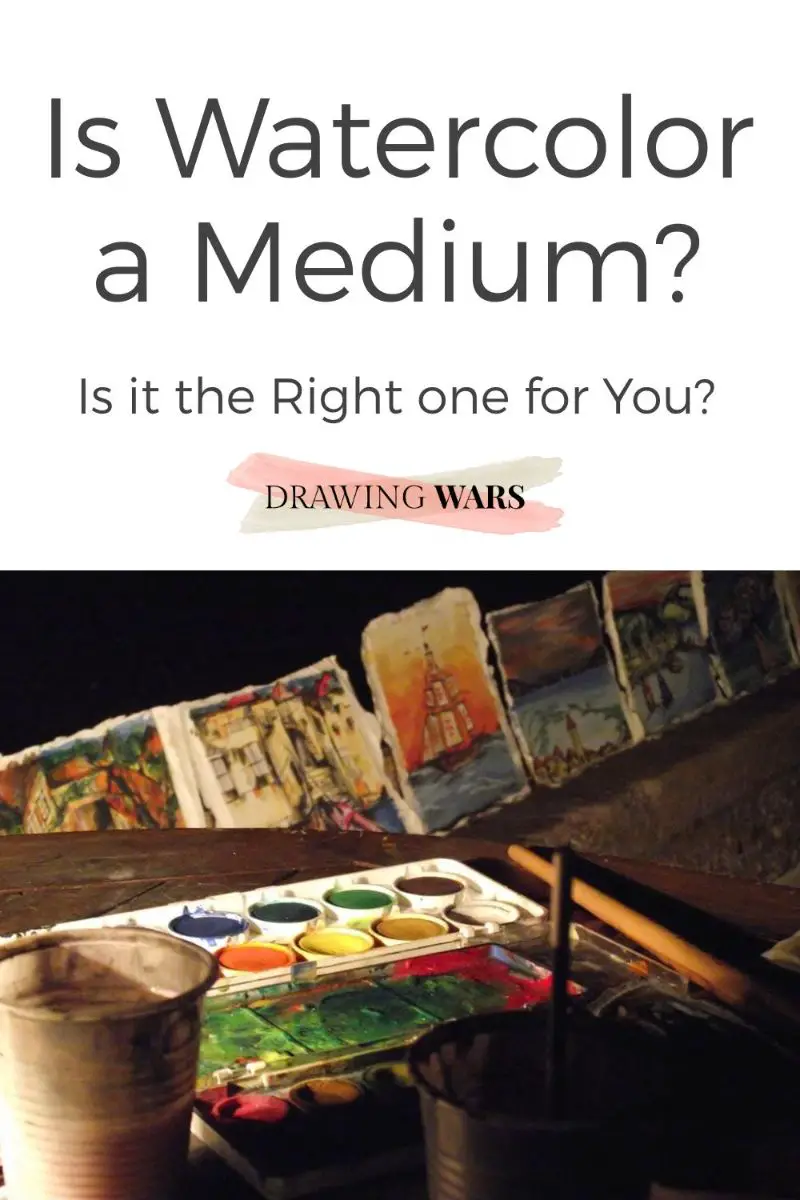 Introduction
If you love painting, trying out watercolor might have crossed your mind one moment in time. The same happened to us when we were looking up painting ideas on the Internet. We saw many watercolor paintings, so without a doubt, it's an art medium that's quite popular for creating various artworks. 
Watercolor is an art medium, particularly painting. It is used to create illustrations and fine artworks of many genres. Using watercolor is simple due to little need for extra materials. However, the techniques may require fine skills to control the flow of water properly.
What is watercolor painting?
Watercolor consists of pigment that is bound together using gum arabic. 
To understand whether watercolor is the right medium for you or not, let's look a bit deeper into how it works.
The pigment is the color of a particular paint, whether it's in tube, pencil, ink or even cake form. And the binder for watercolor is gum arabic. The binder is also available separately to enhance the flow and shine of watercolor. But it's optional and you only need water for your painting to work.
What materials do you need for watercolor painting?
At most, you need only two to three things for a watercolor painting!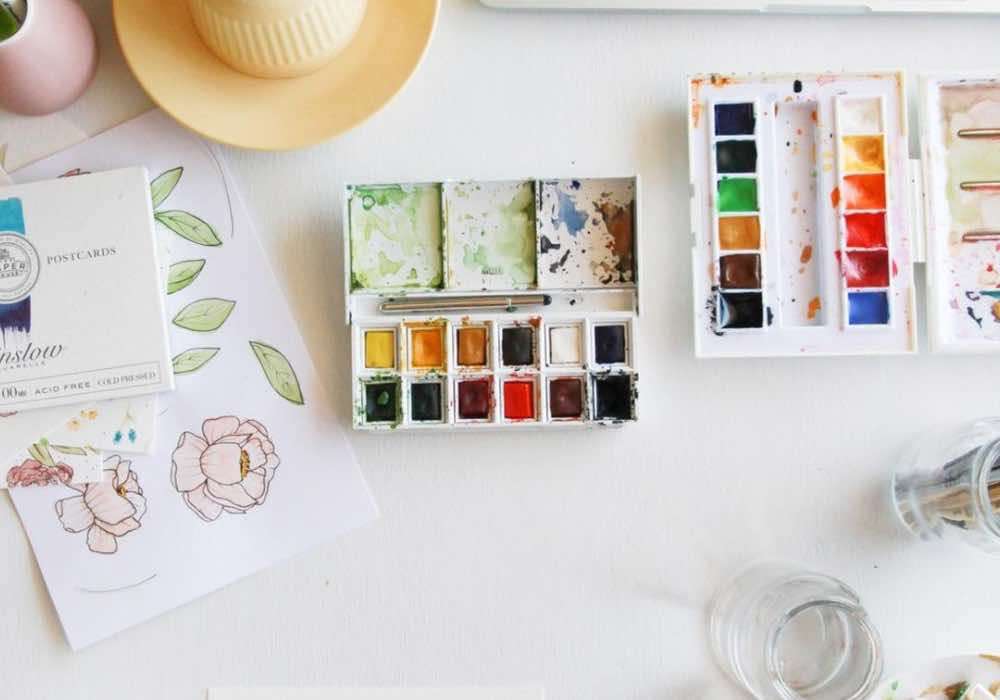 Watercolor painting requires brushes, watercolor paper and paints in either tube of pan form.
You can also use some add-ons depending on the kind of effect you want to achieve with your watercolor painting. Here are a few ways to expand your watercolor kit:
Brushes (Sable, that is, genuine hair brushes are the best)
Watercolor paper 
Watercolor cakes or tubes
Tissue or paper towel to clean the brushes now and again
Palette
Jars or any container to mix water
Varnishing or using a fixative is not necessary. Although protecting with acid-free archival paper is recommended because exposure to light can cause the colors to fade away and the painting can become dim.
So bottom line, if you don't like to have a lot of materials around, watercolor is definitely the medium for you! 
PRO-TIP
Watercolor cakes are better
There is little chance of wasting paint. With tubes, you could waste a lot of watercolor. Moreover, they are also easily manageable. Most of the kits come with a palette so you don't need to buy it separately.
WARNING!
Don't use regular paper
Are you trying to save money by using cheaper paper? While normal heavy drawing paper can work well with watercolor, it's best to avoid it. To make the most out of watercolor techniques and effects, get the heaviest watercolor paper as it can handle a lot of paper without buckling.
How should you paint with watercolor?
Follow a few tips to make your watercolor painting process simpler and faster!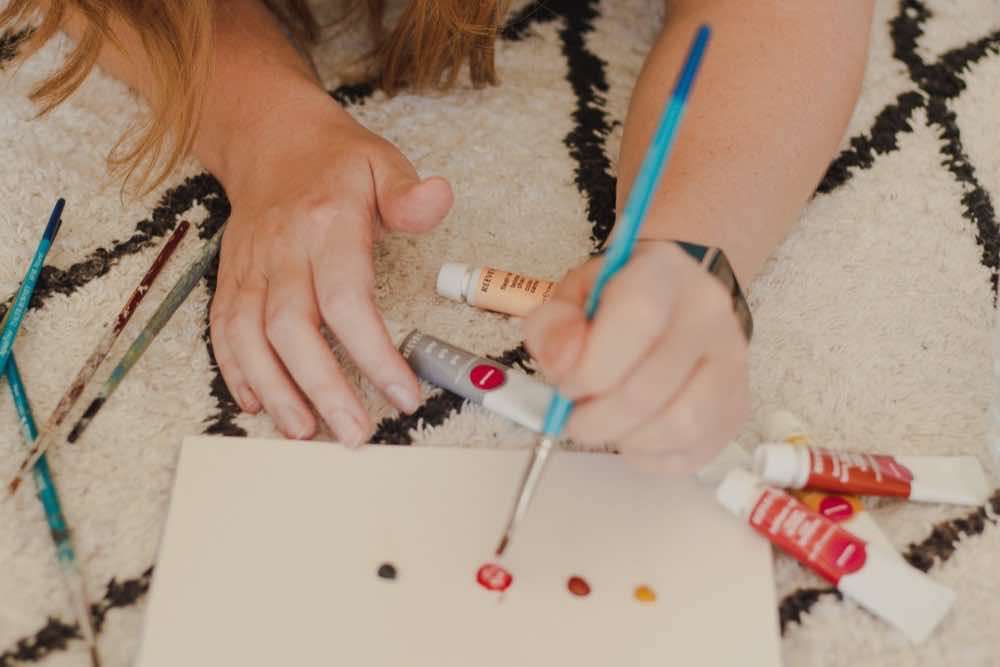 Keeping separate jars and the water clean is essential to watercolor painting.
You can use three types of techniques, namely wet-on-wet, dry-on-wet and wet-on-dry. Applying wet paint on dry paper gives the most control. But it may not be the most appropriate technique to cover the entire page or a large area.
If you've decided on watercolor as your painting medium, here are some tips you should follow:
Wet your brush thoroughly before beginning the painting.
Gently smooth out the brush to make sure it's clean and to flatten out the edges.
Keep two separate water jars. One container should be for cleaning the brushes. The other one should be for mixing water. Alternatively, you can also keep one jar of water for mixing cool colors and another for warm colors.
Always lightly make strokes on a rough piece of plain paper to check the color and consistency of water.
If you like the effect of water and how the colors merge into each other, you'll enjoy watercolor paints! 
PRO-TIP
The type of paper
Always use watercolor paper. You can only get phenomenal and luminous effects with such sheets. The heavy paper absorbs the color very well and therefore, the watercolor painting will look better in the end.
How should you use watercolor cakes or pans?
Portability is the best part about using watercolor cakes or pans!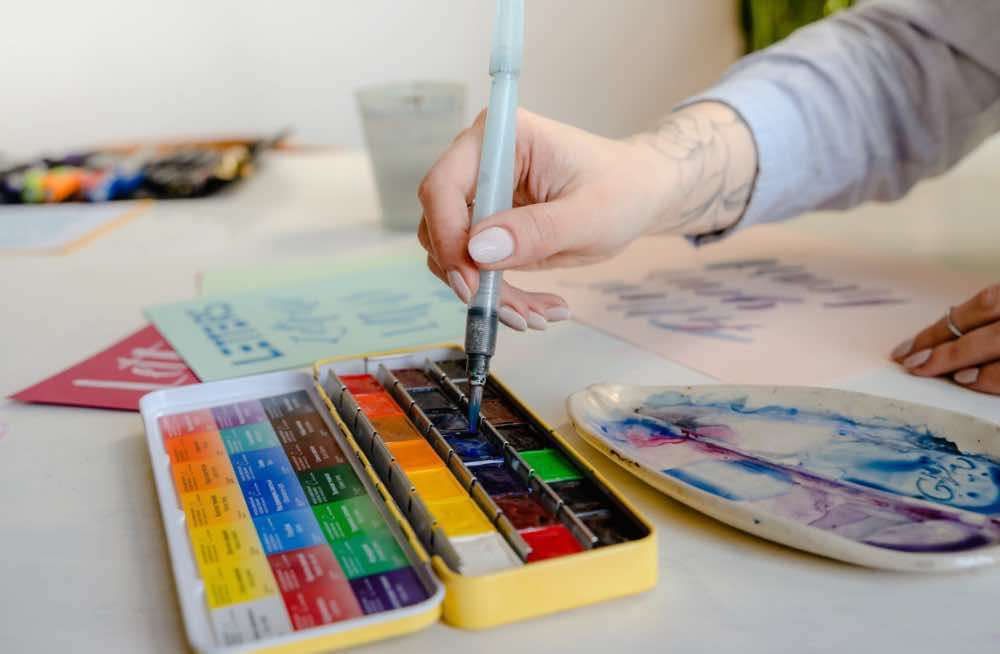 A watercolor cake or pan kit consists of tiny vessels with pigment and gum binder. The colors are fixed, which makes them portable.
If you're someone who loves making art while traveling, watercolor cakes or pans are your best bet. They can easily fit into your bag, some sets can even fit in your pocket!
The best brushes to use while you're on the go are water brushes. You can fill them up with water and use them along with pans any time you want. Just squeeze a bit of water onto the pan before taking off the color.
Here is a set of water brushes that we highly recommend!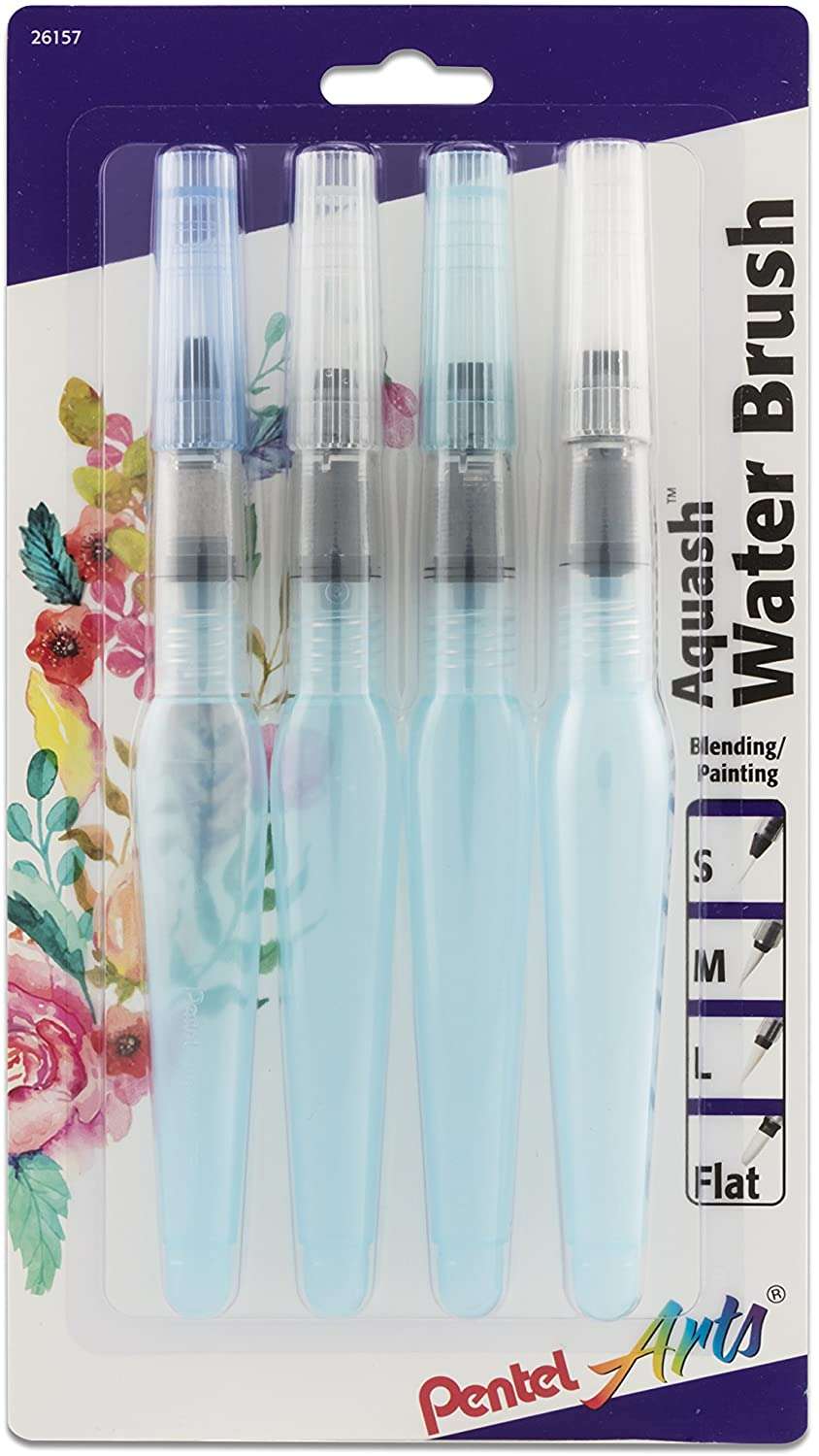 A set of 4 water brushes to achieve watercolor painting effects in different sizes - from small to large and even flat!

If you love to travel and paint on the go, there's nothing better than watercolor as your painting medium!
PRO-TIP
Spray on the pans
Before beginning the painting, lightly mist the pans and cakes. This will allow them to become moist and fresh so you can get well-saturated and rich colors out of the pigment.
Can you get watercolor in pencil, ink, and other forms?
Watercolor is a painting medium that comes in many variants!
Watercolor exists in many forms. The two most popular are pencil and ink variants.
 The medium remains the same, so using it in the form of pencils and inks can give the same effects. The only advantage is that you can combine sharp lines and also give details easily with pencils.
As for watercolor inks, they can be good for covering large areas. So you can enjoy working with one media in a variety of forms and produce an array of effects while you're at it!
Here is a different type of watercolor kit that we think you'd love!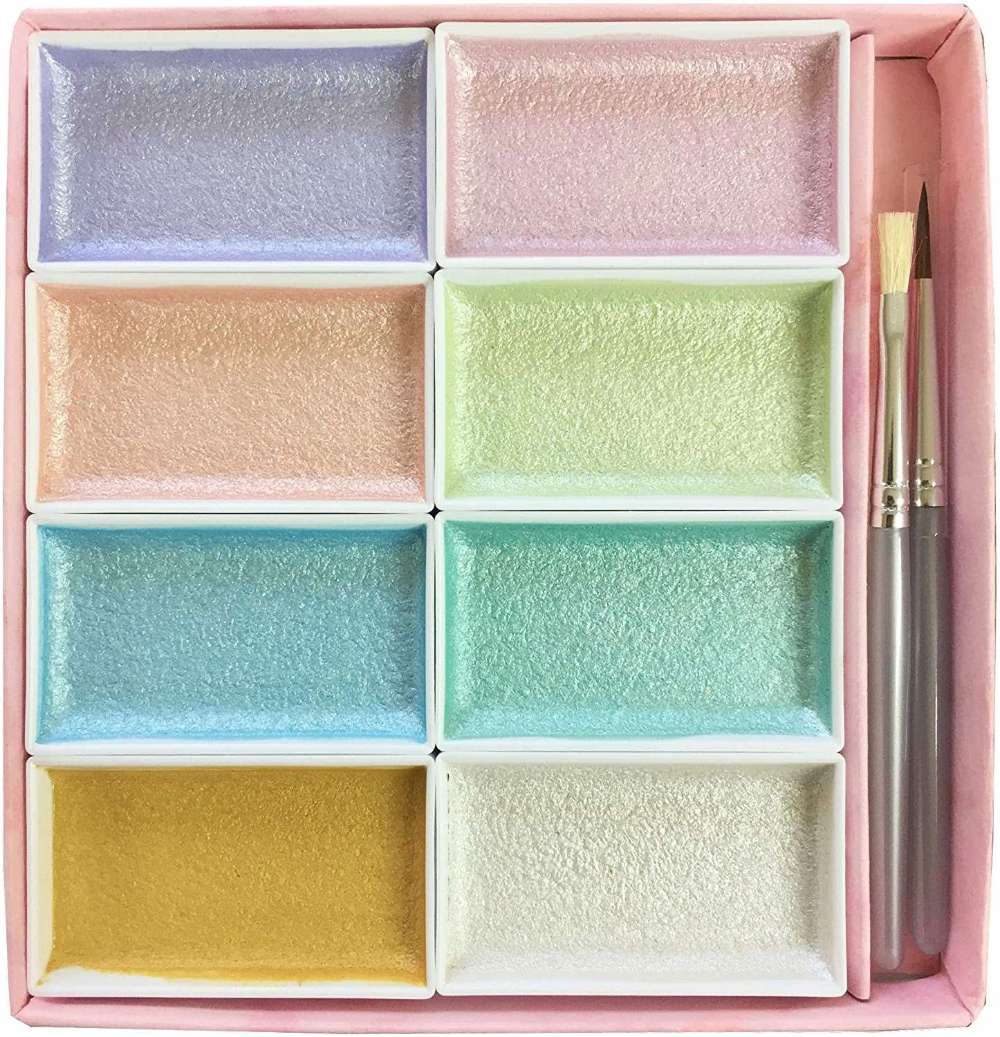 This set of 8 pearl colors can give a 'solid' look on both light and dark watercolor paper.

Do watercolor paints come in different effects? 
So is it possible to achieve shimmer and matte with watercolor paints?
Watercolor paints are available in many variants. For instance, they could come in gem colors, pearl colors and even matt pigmentation.
If you're an artist who loves paints with different types of shimmer, watercolor is the simplest medium that can offer you this versatility.  If you like working on dark colored sheets, then metallic, pearl and gem watercolors are the best choice for you. 
Based on our experience, we recommend you try out these metallic pans from Derwent!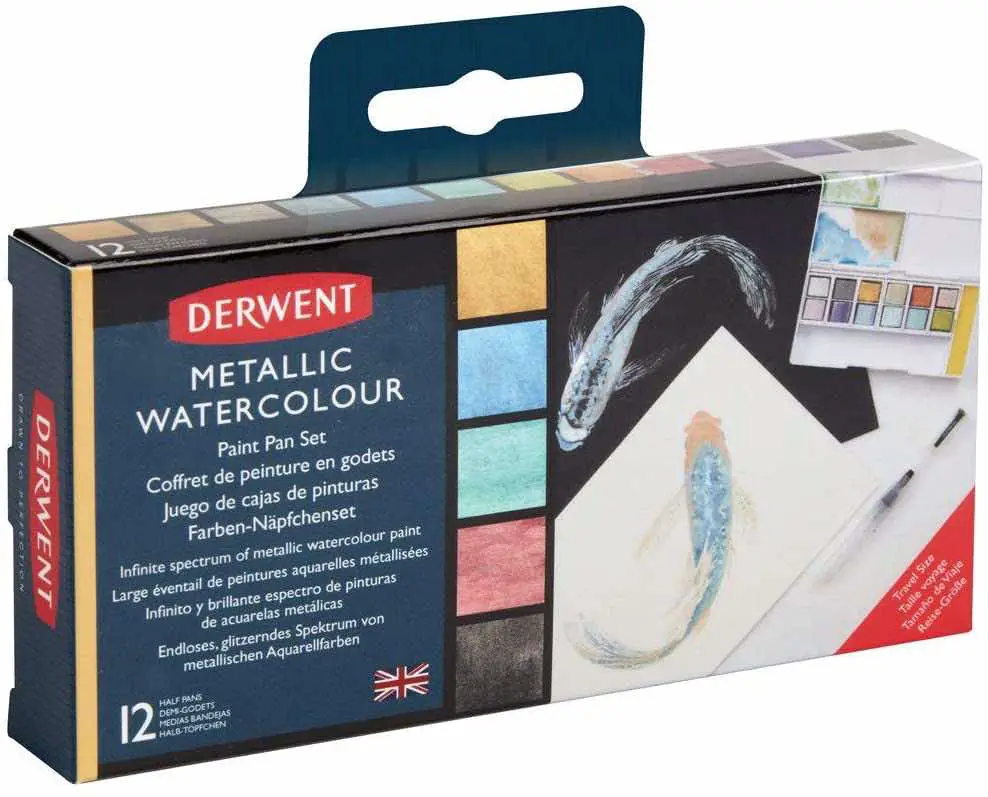 A set of 12 metallic watercolour pans. Try them on dark paper to bring out amazing, glowing effects!

PRO-TIP
Combine different types of watercolor
Try using watercolor of various types together. Combine the effects of pearl, gem and metallic shades. Watercolor kits are available in different sheens and finishes.
What type of projects can I do with watercolor painting?
With watercolor, there can be endless number of projects!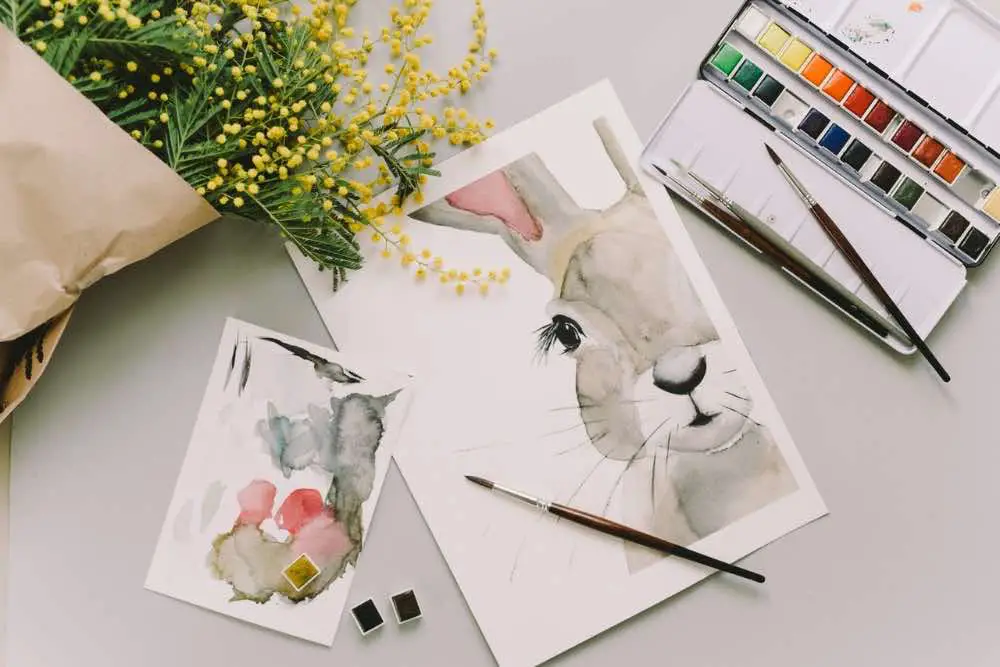 Watercolor is used for a variety of art, illustration and decorative projects. You can also use technique brushes to make all sorts of effects. 
Technique brushes are of different sizes and lengths. These can include cut brushes, sword brushes or even those having short bristles. Here are a few genres to make art in if you're considering watercolor:
Floral illustrations
Bird and animal illustrations
Greeting cards
Notebook art or decoration
Decorating letterheads
Fashion illustration
Fine artworks of a variety of subjects
If you are interested in any of the above, you should definitely try out watercolor.
So is watercolor the right medium for you?
If you love painting a variety of subjects, in different styles watercolor is the right medium for you. You can achieve both spontaneous washes and details with this painting medium. It's also perfect for you if you love to travel and paint on the go. You can create both quick sketches and full-fledged paintings with the help of a small brush or a water brush.
Also if you can invest in high-quality watercolor paper and dedicate yourself to a lot of practice, this is the right painting medium for you. If you want to compare watercolor with other painting media, read this post on the difficulty of watercolor paints .
Have you been struggling with watercolor? Thinking of how easy it is compared to other media? Here's all you need to know!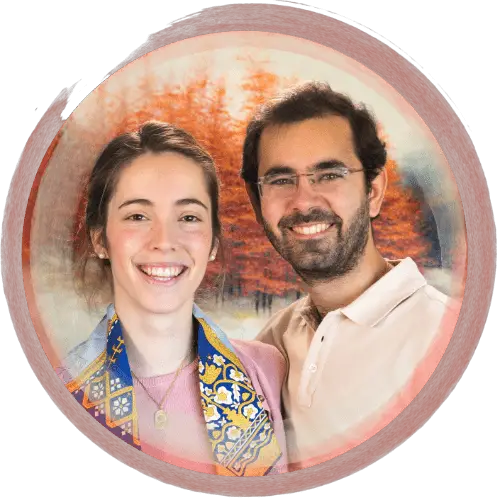 By Jimena & Iñigo
The Navarro-Rubios
My husband and I are learning how to draw and paint. We wanted to share this learning process with the world and have fun! That's why we created this blog. We'll have drawing contests every week and you'll decide who won that week! Follow along and learn with us!